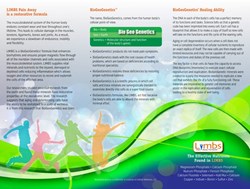 "This breakthrough will ripple throughout time...."- Professor M. Parizon, Pathologist
Norfolk, Virginia (PRWEB) January 28, 2014
BioGeoGenetics, a grassroots health company that produces and blends ionized minerals to help treat chronic pain and other diseases, releases a new video clip on its website, http://www.whatisbiogeogenetics.com, produced by News Channel 3 WTKR, Hampton Roads. The informative clip details a real-life patient of fibromyalgia, Darlene, who saw immediate and long-lasting pain relief from having taken Limbs.
BioGeoGenetics, a grassroots health company founded by private members with professional backgrounds in the medicine, business, and science, announces the release of a news clip produced by News Channel 3 WTKR Hampton Roads on its site, http://www.whatisbiogeogenetics.com. BioGeoGenetics is a research and drug development company that has spent the last 20 years providing extensive research on natural forms of healing. The results of this research come in the form of their products, which have only been locally marketed in the organization's hometown, until now.
The news clip, which can also be found here (link: http://www.youtube.com/watch?v=K4GB5cWJVfw), details a real-life patient of fibromyalgia, Darlene, and highlights her drastic relief of pain after having taken Limbs, an industry-recognized product of BioGeoGenetics. The specially formulated powder is a blend of Ionized Minerals which are known as Trace Minerals and Cell Salts. It is truly a one-of-a-kind product currently on the market whose effectiveness is due to its quick absorption rate as well as its ability to nourish the body on a cellular level. Additionally, Limbs helps to alkalize the body and opens meridian channels for a more effective flow of the body's energy circuits, enabling the body to repair and restore aging and damaged tissue, reduce the swelling of muscles and joints, and more. Limbs also helps alleviate discomfort and improve symptoms associated with arthritis, hip/knee replacements, and ruptured disks.
"That product gave me relief for over 30 days. That's something I had not had in years," said Darlene in the clip, in reference to Limbs. Previously, Darlene had tried a variety of relief methods that did not work, which included expensive medical visits to orthopedists, physical therapists, and acupuncturists. She also relied heavily on a daily dose of pain pills, steroids, and anti-depressants – none of which worked to the ability of Limbs.
Statistically speaking, the NIH reports that the disease affects more than 5 million Americans ages 18 and older, and that projected statistic alone is low and merely the recorded diagnoses to date. In addition, the disease can be debilitating: fibromyalgia is a chronic, life-altering pain condition that causes widespread musculoskeletal pain by way of aching joints, nerve and tendon sensitivity and pain, excessive fatigue, and more.
Although the referenced clip does claim that the product is pricy at "$30 dollars a vial," the new pricing for Limbs is $40 for 10 doses of the supplement. For those interested in a free sample pack, individuals can call toll free to 1 (888) 448-8376, or email biogeogenetics(at)gmail(dot)com. Parties just have to pay shipping and handling to receive the sample.
In addition to Limbs, BioGeoGenetics is also the manufacturer and distributor of Pain Away, a tendon and muscle formula to strengthen and provide relief to the muscular system; Clearer Eyes, an optical enhancement formula to treat discomfort associated with optical diseases such as glaucoma and cataracts; and Celox, a respiratory enhancement formula.
About BioGeoGenetics
For questions, please contact BioGeoGenetics at 1.888.448.8376, or email: biogeogenetics(at)gmail(dot)com.
Please also visit the website, http://www.whatisbiogeogenetics.com, or Facebook at facebook.com/biogeogenetics and Twitter at twitter.com/biogeogenetics. A more in-depth clip can also be found on YouTube, here: http://www.youtube.com/watch?v=K4GB5cWJVfw.