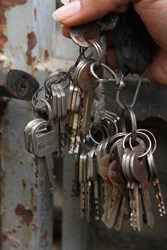 (PRWEB) January 27, 2014
Saving Moses, a global humanitarian organization that saves babies every day, has opened their 2nd NightCare center to care for the babies of sex workers. In December of 2013, Saving Moses opened the doors of its second facility which bathes, clothes, feeds, and cares for the hopeless babies whose unfortunate mothers are trapped in the sex industry. On its first night this center had triple the number of babies the original center had at its opening. The new center is located in the heart of some of the worst conditions in Cambodia's capital city, Phnom Phen. The center provides a much needed safe haven for babies in conditions where the alternatives to NightCare are devastating.
For her first trip of 2014 Sarah Bowling, founder of Saving Moses, will be traveling to Phnom Phen in January to celebrate the center's grand opening. The opening ceremonies will take place in Tuol Kok. Sara will also be visiting Saving Moses' original NightCare center which on average serves 27 babies every night. She will be christening the newest center on her trip and visiting the babies who would otherwise have to fend for themselves at night without NightCare.
The second center is only the beginning of the strategy Saving Moses has for expansion in Cambodia and all over Asia. With plans to open two more centers in Cambodia in 2014, they are continually seizing every opportunity to provide care where it is most urgent, and least available. Saving Moses is saving babies every day.
About Saving Moses:
Saving Moses is a 501(c)(3) non-profit global humanitarian organization saving babies (5 & under) everyday by meeting the most urgent and intense survival needs where help is least available. Saving Moses operates malnutrition clinics in Angola and NightCare centers in Cambodia. For more information, please visit http://www.savingmoses.org, call 303-729-1200, or email Info(at)savingmoses(dot)org.