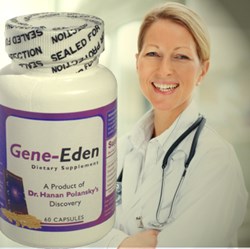 We recommend that individuals follow the Cancer.org recommendation, and take the HPV test. If tested positive for HPV, we recommend Gene-Eden-VIR. – Mike Evans, polyDNA
Rochester, NY (PRWEB) January 31, 2014
According to Reuters Health, "Americans are more aware that there is a test for the human papilloma virus (HPV) than counterparts in the UK and Australia, according to a new study, but few people knew much more than that (1)." polyDNA recommends that individuals who test positive for HPV take Gene-Eden-VIR. This HPV remedy was proven to reduce HPV symptoms in a post-marketing clinical study that followed FDA guidelines.
In all cases, health authorities routinely recommend that women get tested for HPV infection. The study's senior author, Dr. Jo Waller said that "People seem to be more aware of HPV vaccination than testing, however, which is not surprising given the publicity around the vaccine (1)." Dr. Waller continued, saying "The Pap test, used to look for abnormal cell changes in the cervix, is much older and generally familiar to most people, but the newer HPV test looks for the virus that causes those changes (1)."
"Among those who had heard of the virus, only half were aware of the HPV test (1)." Most people are aware of a Pap test (Pap smear). "A Pap test is used to find cell changes or abnormal cells in the cervix. (These abnormal cells may be pre-cancer or cancer, but they may also be other things.) Cells from the cervix are removed, processed, and then looked at under a microscope to see if the cells are normal or if changes can be seen. The Pap test is a very good test for finding cancer cells and cells that might become cancer.
"HPV is a virus that can cause cervix cell changes. The HPV test checks for HPV. The test can be done at the same time as the Pap test, with the same swab or a second swab. You will not notice a difference in your exam if you have both tests. A Pap test plus an HPV test (called co-testing) is the preferred way to find early cervical cancers or pre-cancers in women 30 and older." (See Cancer.org, last revised on February 5, 2013) (2).
In other words, the Pap test is a local test that looks for cellular changes in the cervix. In contrast, the HPV test looks for viral DNA anywhere in the body. A woman can show an HPV infection and still not have any cellular changes in the cervix. This is called asymptomatic infection. In other words, it is common to have a negative Pap smear, and a positive HPV test.
Why is it important to have an HPV test? Why is a Pap smear not enough?
Most people with HPV do have symptoms. If a person has no symptoms but tests positive for HPV DNA, this indicates a latent infection. This person can develop symptoms, including genital warts or pre-cancerous cellular changes.
When there are symptoms, another study found that "There are no drugs approved against the HPV. Current treatments include procedures, such as cryotherapy, conization, and the Loop Electrosurgical Excision Procedure (LEEP). These procedures use liquid nitrogen, a surgical knife (scalpel), a carbon dioxide (CO2) laser, or electrical current to remove the abnormal growths caused by the HPV. These growths include cells that harbor the active virus. The procedures do not target cells with the latent virus. Since they do not remove the latent virus, these procedures only produce a temporary remission." (See the journal Pharmacology & Pharmacy, from August 12, 2013) (3).
Cancer.org recommends that "If you have no history of HIV or genital cancer or pre-cancer, and are a woman age 30 or older, you should have an HPV test with your Pap test (co-testing) every 5 years until you are 65… There is no FDA-approved HPV test for men at this time (2)."
"We recommend that individuals follow the Cancer.org recommendation, and take the HPV test. If tested positive for HPV, we recommend Gene-Eden-VIR." – Mike Evans, polyDNA
Individuals infected with the latent HPV virus can ask their doctors about Gene-Eden-VIR, or they can go online to learn more. Gene-Eden-VIR is a safe, natural product that was proven to reduce HPV symptoms in a clinical study published in the peer reviewed, medical journal Pharmacology & Pharmacy, in a special edition on Advances in Antiviral Drugs on August 12, 2013.
The study showed that Gene-Eden-VIR reduced HPV symptoms and was safe and effective (3). "Up to 70% of those studied reported a decrease in HPV symptoms (3)."
Each ingredient of Gene-Eden-VIR was chosen through a scientific approach. Scientists scanned thousands of scientific and medical papers published in various medical and scientific journals around the world to identify the safest, most effective natural ingredients that target the latent form of HPV (3).
Doctors can view the paper on Gene-Eden-VIR here: http://gene-eden-kill-virus.com/PP_Gene-Eden-VIR-is-Antiviral.pdf.
To learn more about Gene-Eden-VIR and HPV, visit http://gene-eden-kill-virus.com/HPV-Remedy.php. All orders of Gene-Eden-VIR are completely confidential, and no information is shared or sold to any third party. Privacy is assured.
Reference:
(1) HPV test awareness, knowledge still low. Published on January 24, 2014.
http://www.reuters.com/article/2014/01/24/us-hpv-test-awareness-idUSBREA0N1J420140124
(2) Human Papilloma Virus (HPV), Cancer, HPV Testing, and HPV Vaccines : Frequently Asked Questions. Last revised on February 5, 2013.
http://www.cancer.org/cancer/cancercauses/othercarcinogens/infectiousagents/hpv/humanpapillomavirusandhpvvaccinesfaq/hpv-faq-h-p-v-testing
(3) Gene-Eden-VIR Is Antiviral: Results of a Post Marketing Clinical Study. Published on August 12, 2013.
http://gene-eden-kill-virus.com/PP_Gene-Eden-VIR-is-Antiviral.pdf
polyDNA is a biotechnology company that develops dietary supplements using the unique scientific method developed by Dr. Hanan Polansky, which is based on Computer Intuition.
In addition to his unique scientific method, Dr. Polansky published the highly acclaimed scientific discovery, called Microcompetition with Foreign DNA. The discovery explains how foreign DNA fragments, and specifically, DNA of latent viruses, cause most major diseases.
polyDNA developed Gene-Eden-VIR , an antiviral natural remedy that helps the immune system kill latent viruses.