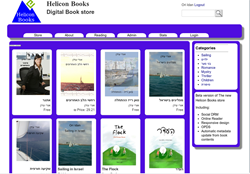 London, UK, (PRWEB) January 28, 2014
Helicon Books developed a new digital book store which is designed to integrate a comprehensive range of services and products unique to the digital publishing world.
The new store boasts a variety options for digital publishers:

Online reader – with an automatic upload of the chapters for preview and Social DRM-solution for copyright violation.
The new store allows the purchase of eBooks directly from reading application with OPDS.
The store enables an automatic update of eBooks metadata information and a new option of automatic conversion from EPUB to Kindle.
The store is flexible with graphic design and can also use responsive design for mobile devices.
The store includes a content management system and can handle an unlimited number of books.
There is no need to page through list of books – additional books will be added when scrolling down.
The new store is already in use by Israeli customers, such as Booxilla, which is a digital book retailer specializing in Hebrew eBooks.
CEO, Ori Idan, comments: "Helicon Books' digital book store is more than an e-commerce store. It is a merge of services and products we developed over the years and takes customer feedback into careful consideration. The new store aims to meet the requirements of our users and prove the value of Helicon Books capabilities as an innovative technological company in this market."
Helicon Books is actively looking for partners to operate such stores in many countries.
You can read more about the digital book store on the Helicon Books Website:
http://www.heliconbooks.com/article/store.
About Helicon Books
Helicon Books provides a complete set of services including server maintenance, software customization, and creating advanced advanced and simple digital books in all formats.