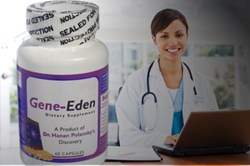 We recommend that individuals with an HSV-2 infection take Gene-Eden-VIR. This Herpes remedy was proven to reduce Genital Herpes symptoms in a post-marketing clinical study that followed FDA guidelines. - Mike Evans, polyDNA
Rochester, NY (PRWEB) February 01, 2014
Studies have shown that 50% of black women have Herpes, which is half of the women in the community. Among the general population, Genital Herpes is three times more prevalent among blacks compared to whites. "HSV-2 infection is more common among non-Hispanic blacks (39.2%) than among non-Hispanic whites (12.3%) or Mexican Americans (10.1%). This disparity remains even among persons with similar numbers of lifetime sexual partners. For example, among persons with 2-4 lifetime sexual partners, HSV-2 is still more prevalent among non-Hispanic blacks (34.3%)." (See the CDC's website, last updated on February 13, 2013) (2). polyDNA recommends that the African American community consider Gene-Eden-VIR to help the immune system target the latent Herpes virus. This natural product was clinically proven to reduce Herpes symptoms in a study that followed FDA guidelines.
"Black women have the highest rate of infection and their rate is nearly twice as high as men. Overall, 21 percent of all women are infected, compared with 11.5 percent of men. For the black community, 39 percent of all African Americans are infected, compared with 12 percent for whites." (See YourBlackWorld.net, from August 31, 2012) (3).
Dr. Kevin Fenton said: "Herpes remains a common and serious health threat in the United States. Everyone should be aware of the symptoms, risk factors and steps that can be taken to prevent the spread of this lifelong and incurable infection." Dr. Fenton is the director of the CDC's National Center for HIV/AIDS, Viral Hepatitis, STD and TB Prevention. (See CNN.com, from March 10, 2010) (4).
"Fenton said the high rate of Herpes among African-Americans is most likely contributing to the high rate of HIV in that community. In fact, statistics show that people with Herpes are two to three times more likely to get HIV if exposed (4)."
polyDNA points out that the CDC also estimates that more than 80 percent of the people who have the Herpes Simplex 2 virus don't know they are infected. "Many people never have symptoms or outbreaks, or those symptoms are mild and mistaken for something else. But transmission can occur without symptoms or visible sores (4)."
For those with a Genital Herpes infection, there are a number of treatments available. As a study reported, "Two types of antiviral treatments against HSV are available: topical and oral. The treatments include penciclovir, acyclovir, famciclovir, and valaciclovir. However, their effectiveness is limited. For instance, a meta-analysis of five placebo-controlled and two dose comparison studies evaluated the effect of aciclovir, famciclovir or valaciclovir on symptoms. The meta-analysis showed that oral antiviral therapy decreases the duration and the associated pain of an outbreak by merely one day." (See the journal Pharmacology & Pharmacy, from August 12, 2013) (5).
"We recommend that individuals with an HSV-2 infection take Gene-Eden-VIR. This Herpes remedy was proven to reduce Genital Herpes symptoms in a post-marketing clinical study that followed FDA guidelines." Mike Evans, polyDNA
Individuals infected with the latent HSV-2 can ask their doctors about Gene-Eden-VIR, or they can go online to learn more. Gene-Eden-VIR is a safe, natural product that was proven to reduce genital herpes symptoms in a clinical study published in the peer reviewed, medical journal Pharmacology & Pharmacy, in a special edition on Advances in Antiviral Drugs on August 12, 2013.
The study showed that Gene-Eden-VIR reduced genital herpes symptoms and was safe and effective (5). "Up to 70% of those studied reported a decrease in HSV-2 symptoms (5)."
Each ingredient of Gene-Eden-VIR was chosen through a scientific approach. Scientists scanned thousands of scientific and medical papers published in various medical and scientific journals around the world to identify the safest, most effective natural ingredients that target the latent form of genital herpes (5).
Doctors can view the paper on Gene-Eden-VIR here: http://gene-eden-kill-virus.com/PP_Gene-Eden-VIR-is-Antiviral.pdf.
To learn more about Gene-Eden-VIR and HPV, visit http://gene-eden-kill-virus.com/Herpes-Remedy.php. All orders of Gene-Eden-VIR are completely confidential, and no information is shared or sold to any third party. Privacy is assured.
Reference:
(1) U.S. Rates of HSV-1 and HSV-2 Infection Are Falling, Especially Among Whites. Published on October 16, 2013.
http://www.jwatch.org/na33053/2013/12/11/us-rates-hsv-1-and-hsv-2-infection-are-falling-especially
(2) CDC - Genital Herpes - CDC Fact Sheet. Last updated on February 13, 2013.
http://www.cdc.gov/std/herpes/STDFact-herpes-detailed.htm
(3) CDC: Nearly Half of All Black Women Have Genital Herpes. Published on August 31, 2012.
http://www.yourblackworld.net/2012/08/uncategorized/cdc-nearly-half-of-all-black-women-have-genital-herpes/
(4) CDC says genital herpes is still a 'serious health threat'. Published march 10, 2010.
http://edition.cnn.com/2010/HEALTH/03/10/genital.herpes/
(5) Gene-Eden-VIR Is Antiviral: Results of a Post Marketing Clinical Study. Published on August 12, 2013.
http://gene-eden-kill-virus.com/PP_Gene-Eden-VIR-is-Antiviral.pdf
polyDNA is a biotechnology company that develops dietary supplements using the unique scientific method developed by Dr. Hanan Polansky, which is based on Computer Intuition.
In addition to his unique scientific method, Dr. Polansky published the highly acclaimed scientific discovery, called Microcompetition with Foreign DNA. The discovery explains how foreign DNA fragments, and specifically, DNA of latent viruses, cause most major diseases.
polyDNA developed Gene-Eden-VIR , an antiviral natural remedy that helps the immune system kill latent viruses.