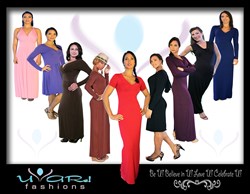 Orlando, FL (PRWEB) January 27, 2014
U ARe! Fashions' maxi hoodie dress designs are a fashion must have. Trendy, chic, classy, adorable, sexy, comfortable, is what U ARe! Fashions designs offer the fashion world. Created by Anissa Rogers, styles by U ARe! Fashions are being promoted as effortless beauty and endorsed as the next evolution in fashion. The hoodie dress designs have become most popular, offering style, originality, versatility…not to mention, they adorable too.
The philosophy of U ARe! Fashions is: celebrate who U ARe, celebrate womanhood and celebrate spirituality.
The collection currently consists of nine (9) ready to wear dress styles and comes in sizes X-Small to X-Large. Eight (8) colors are available: black, navy blue, brown, hot pink, purple, red, burgundy and hunter green. The collection is designed by and produced exclusively for U ARe! Fashions and is available for retail and wholesale purchasing.
Each design is inspired by qualities of originality, style, beauty, versatility, comfort and practicality. These combined qualities are the key elements of marketability.
Originality: Innovation is the concept behind the four dress styles designed with a hood. The hoodie dresses are most popular for their adorable, unique flair. The hooded feature offers an unusual allure and exquisiteness.
Style: The collection offers style diversity and appeals to juniors and misses alike. Designs are chic and modern but will not out-date with the next trend flux.
Beauty: Styles are designed to flatter many shapes and sizes. Customers from size 4 to size 14 have fallen in love with how the dresses fit and contour the body.
Versatility: Styles can be dressed up or down and are attractive worn with accessories or without.
Comfort: The quality and feel of the knit blend fabric are the components to the effortless beauty. The material is forgiving and offers movability for all day comfort.
Practicality: The weight of the material is such that dresses can be worn across seasons in many different climates. I.e. Cool: layer with leggings; Warm: Stay cool, slip it on and go.
U ARe! Fashions (bilingual) Commercial
The U ARe! Fashions line is currently available for online retail purchasing at http://www.uarefashions.com or Amazon.com. Buyers interested in wholesale purchasing can view the 2013 Lookbook online at http://www.uarefashions.com. Join the 4200+ who Like us on Facebook.
Contact:
Anissa Rogers
Email: Uarefashions(at)outlook(dot)com
Phone: (407) 580-0883
Website: http://www.uarefashions.com