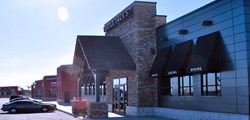 Uptown Center is home to a balanced mix of carefully chosen outlets which include fine dining restaurants, and coffee shops
Burlington, Ontario (PRWEB) January 27, 2014
Upon successful completion of Phase I and II of Uptown Center retail center in Burlington, LJM Developments ("LJM") CEO, Liaquat Mian announced plans for Phase III development, which will bring an additional 30,000 square foot of prime retail space to the center.
The company's Phase I & II development brought an elegant, stacked design to the neighborhood, which provides maximum frontage to all the outlets in the striking red-brick façade. Uptown Center is home to a balanced mix of carefully chosen outlets which include fine dining restaurants, and coffee shops. In particular, the retail outlets include Starbucks Coffee, Pita Pit, Turtle Jacks Muskoka Grill, Massage Addict Spa, Uptown Dental Clinic, and Fraticelli's Italian Bar and Grill. The diverse mix of food outlets and services add to the appeal of the retail center that aims to become a one-stop shop for consumers.
"We are very excited for Phase III development of Uptown Center and to bring more new businesses and services to the community. I am particularly looking forward to unveiling the bespoke design of the 4-storey structure, which will further raise the profile of Uptown Center and add to the modern architecture of Burlington City," says Liaquat Mian at LJM Developments. Mr. Mian also welcomed Fraticelli's Italian Grill to Uptown Center in September 2013, which is the anchor tenant in Phase II.
LJM's vision for Phase III is to build a contemporary four storey all-glass building with an imposing façade that overlooks Phase I and II. The company aims to attract medical centers and offices to its new development, which will offer significant exposure from the traffic on Appleby Line and from the neighborhood of over 4,000 homes surrounding the development. Appleby Line itself sees more than 70,000 cars pass every day which are favorable traffic numbers for any business.
The central location of Uptown Center is connected with two major highways – the QEW, and 407 - both intersecting Appleby Line. LJM recently completed development of the signature Ironstone Condominiums adjacent to Uptown Center, and is currently undertaking development of Appleby Gardens Condominiums, just across from Uptown Center.
Uptown Center is currently accepting applications for lease of units in its Phase III development, and LJM expects construction to start in September 2014.
About LJM Developments
LJM Developments is a recognized industry leader in real estate development in Ontario, Canada. The company has developed highly-acclaimed signature projects in the residential and commercial sectors that are a perfect synergy of world class architectural design and cutting-edge construction quality.
For more information about Uptown Center, please visit http://www.uptowncenter.ca
####
If you would like more information about this topic or need to make further press inquiries, please contact LJM Developments at 289-245-1900 or e-mail: info@ljmdevelopments.ca