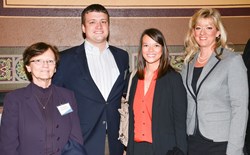 We are extremely honored to have been chosen for the EDGE award alongside such innovative and influential businesses here in Indiana.
Evansville, Indiana (PRWEB) January 27, 2014
ExceptionalSheets.com, a leading online luxury linen company, has been honored with the Economic Development and Growth Entrepreneurship (EDGE) Award for contributions to their community through their growth and success in E-commerce. This award was made possible through the support of the Indiana Small Business Development Center (ISBDC) and presented by Indiana's Lieutenant Governor, Sue Ellspermann, during a Statehouse ceremony.
"We are extremely honored to have been chosen for the EDGE award alongside such innovative and influential businesses here in Indiana," said Paul Saunders, Founder and President of ExceptionalSheets.com. "We strive every day to use E-Commerce to make a positive impact in our community and in the economy of Evansville and the state of Indiana. We want to truly thank Rep. Holli Sullivan, Indiana Auditor Suzanne Crouch, Lt. Gov. Sue Ellspermann and Doug Claybourn and Kim Howard from the ISBDC for this honor."
"Businesses like ExceptionalSheets.com are what help our economies grow and thrive," said Rep. Sullivan in a Statehouse press release. "I congratulate Paul Saunders and Exceptional Sheets on this award and thank them for their positive impact on our community. Paul's successful business is a great example of how E-commerce can play a vital role in growing the economy of southwest Indiana."
The ISBDC EDGE Awards celebrate economic development and growth through entrepreneurship in Indiana and ExceptionalSheets.com was one of 11 companies picked for the Established Businesses category. EDGE Award recipients have been selected locally by the regional ISBDC staff that works directly with the business. With 10 regional offices throughout Indiana, the ISBDC exists to create a positive and measurable impact on the formation, growth, and sustainability of small businesses as well as to develop a strong entrepreneurial community.
About ExceptionalSheets.com
Exceptional Sheets is among the internet's most trusted and successful specialty linen providers. It is a United States Veteran owned and operated company based out of Evansville, Indiana. Their specialty products include Egyptian cotton bed sheet sets, duvet covers and pillow cases, as well as mattress toppers, goose down comforters, 5-Star Egyptian cotton bath robes and Egyptian cotton bath towel sets. Exceptional Sheets continues to dominate the online market by providing a comprehensive line of linens that cater to customers seeking authentic products for the finest in comfort and luxury.
To take advantage of daily offers, prospective customers should visit the website or call the toll free customer support line at 1-800-977-7433.