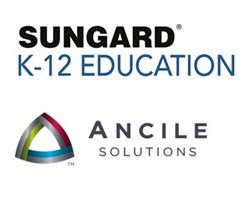 This tool will complement our intuitive software's robust documentation and built-in user support.
Bethlehem, Pa. (PRWEB) January 28, 2014
Leading K-12 administrative software and technology services company, SunGard K-12 Education has selected ANCILE Solutions, Inc., as its premier solutions provider for learning and performance solutions. As a result of the alliance, SunGard K-12 will migrate much of its existing eLearning content and create future content for eSchoolPLUS, BusinessPLUS, and eFinancePLUS with ANCILE uPerform Express. Districts will also have the option to license ANCILE uPerform Express to customize and create learning content to benefit school staff and district administrators.
According to Joel Hames, SunGard K-12's senior product manager, ANCILE uPerform Express will put a powerful professional development tool at the fingertips of SunGard K-12's customers. "This tool will complement our intuitive software's robust documentation and built-in user support," says Hames. "With ANCILE uPerform Express, district IT staff can easily create procedural documents, simulations, and eLearning courses to help bring new users quickly up to speed on district-specific practices for using our software to support student achievement and manage district business operations."
Patrick Dunlap, ANCILE vice president of sales and professional services, welcomes this new alliance.
"SunGard K-12 supports one of every six students nationally, so we're very excited about this alliance with a lead developer of administrative software for K-12 school districts," says Dunlap. "Our mission is to enable companies to enhance customer satisfaction and help improve end-user adoption and proficiency. We do this by providing solutions that improve workforce skills and competency as employees interact with business applications. SunGard K-12 joins well-respected companies that use ANCILE software to help their customers enable employee performance and ensure effective business outcomes."
About SunGard K-12 Education
SunGard K-12 Education offers software solutions designed to help teachers, administrators, and parents support student achievement. The PLUS 360 products are a single integrated suite of software solutions for the management of student information, assessment and curriculum, special education, and financial and human resources. The suite—which provides district staff with anytime, anywhere access to important district information—can be deployed to work together to help meet educational goals and requirements or implemented as stand-alone systems. For more information, visit SunGard K-12 Education at sungard.com/K12.
About SunGard
SunGard is one of the world's leading software and technology services companies. SunGard serves approximately 25,000 customers in more than 70 countries and has approximately 17,000 employees. SunGard provides software and processing solutions for financial services, education, and the public sector. SunGard also provides disaster recovery services, managed IT services, information availability consulting services, and business continuity management software. With annual revenue of more than $4.0 billion, SunGard is one of the largest privately held IT software and services companies. For more information, please visit http://www.sungard.com.
About ANCILE Solutions, Inc.
ANCILE Solutions, Inc. is a global software solutions company specializing in the development and support of learning and workforce performance products. ANCILE helps enterprises achieve and maintain improved operational performance by maximizing the productivity of an organization's most valuable asset – their people. ANCILE empowers companies to communicate critical information, deliver essential knowledge and training, and validate employee performance. As a provider of best-in-class learning and workforce performance software, ANCILE products are used by more than 4,400 customers across the globe to support mission-critical business applications. ANCILE develops, sells, supports, and services ANCILE uPerform™, ANCILE uPerform™ Express, ANCILE uAlign™, and ANCILE Info Pak™. For additional information, please visit http://www.ancile.com.
Trademark Information: SunGard, the SunGard logo, BusinessPLUS, eFinancePLUS and eSchoolPLUS are trademarks or registered trademarks of SunGard Data Systems Inc. or its subsidiaries in the United States and other countries. All other trade names are trademarks or registered trademarks of their respective holders.
© SunGard 2014. All rights reserved.
# # #