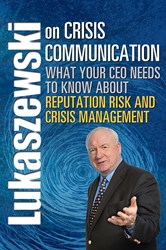 Jim Lukaszewski, an international thought leader in crisis communication for four decades, is one of the most knowledgeable people on earth about crisis management. His counsel has saved the reputation of many corporations and individuals.
Brookfield, CT (PRWEB) January 30, 2014
Rothstein Publishing announced today that its new book Lukaszewski on Crisis Communication: What Your CEO Needs to Know About Reputation Risk and Crisis Management by James E. Lukaszewski has been selected as one of "30 Best Business Books of 2013" by Soundview Executive Book Summaries, a leading producer of professional development programs. Since studies show that only 60% of major corporations have a crisis management plan – too often demonstrated by daily news stories – the book is a timely selection.
According to Lukaszewski (Loo-ka-SHEV-skee),"This book's advice is based on the best ethical and operational practices for leaders and managers at all levels. It illustrates the stumbles, fumbles, mumbles, bumbles and tumbles that need to be avoided. Doing it right, doing it quickly, and doing it honorably are the fundamental goals for the book and the lessons it teaches."
Lukaszewski is a nationally recognized PR executive and pioneer who helped shape the modern discipline of crisis communication. Jay Rayburn, Professor and Division Director of the School of Communication at Florida State University, calls him "an international thought leader in crisis communication for four decades and one of the most knowledgeable people on earth about crisis management. His counsel has saved the reputation of many corporations and individuals."
In 10 chapters Lukaszewski distills his 40 years of experience with some of the country's highest profile crises. He starts by defining a crisis as an event that creates victims, and his emphasis on immediately stopping the creation of victims and dealing with them fairly and compassionately is a concept rarely dealt with in crisis communication or operational response planning.
Using case studies, examples and templates, he explains how to build a crisis management plan and how to put it into action in the real world of media scrutiny, news conferences, social media, activists, and litigation. He also shows how employees and other stakeholders can support management in preparing for, surviving, and perhaps even improving their company's reputation during a crisis.
Lukaszewski on Crisis Communication contains practical instructions, case studies, examples, forms, checklists, lists of what to do and avoid, and wise advice from the front lines of crisis in Lukaszewski's trademark, no-punches-pulled style:

"Speed beats smart every time. Waiting to execute the perfect response will cost you your reputation, and likely your job, and you will still fail."
"Failure to immediately stop the creation of victims and to manage the victim dimension of a crisis empowers the victims to determine your destiny."
"Apology is the atomic energy of empathy and will stop litigation in its tracks."
"The perfect response, if communicated badly, will always be remembered as a bad response."
"Crisis management is common sense at lightning speed, rather than public relations practiced faster."
"Neither the media, your toughest opponents, smartest critics, nor the government knows enough to defeat you. Defeat and exposure are almost always the work of uninformed, well-meaning or overoptimistic board members, bosses, friends, relatives, associates, and overzealous co-workers, or dysfunction in an organization."
"Focus the attorneys on settlement from the start, and the check you write today will be the smallest check you'll ever write."
"Some of the smartest people in the room have also occupied fairly drab prison cells."
Each year, Soundview editors evaluate hundreds of new business books across 10 major categories to choose the most outstanding titles for their annual "30 Best" collection. This book was selected as not only one of the "Best," it's also featured as an executive book summary, webinar and – beginning January 2014 - a video training course in the new SoundviewPro product line of Massive Open Online Courses. These MOOCs will connect the most distinguished business teachers and authors to audiences around the world. Lukaszewski was selected to appear in the inaugural group of videos.
Request a review copy of Lukaszewski on Crisis Communication
James E. Lukaszewski, ABC, APR, Fellow PRSA, is included in Living Legends of American Public Relations (2008) and cited in PR Week as one of 22 "crunch-time counselors who should be on the speed dial in a crisis." He is President of the Lukaszewski Group Division of Risdall Public Relations. Pennsylvania State University invited him as one of three panelists on the topic of "Integrity in Times of Crisis" during its 2013 Bronstein Lecture in Ethics and Public Relations. In 2013 he was named among the "Top 100 Thought Leaders in Trustworthy Business Behavior" by Trust Across America. His popular PRSA (Public Relations Society of America) and IABC (International Association of Business Communicators) seminars and webinars have been attended by thousands.
Since 1989, Rothstein Publishing has been a premier source of books and learning materials in Crisis Management, Enterprise Risk, Business Continuity, Disaster Recovery, and Emergency Management. Its industry-leading authors provide actionable knowledge, solutions, and tools that can be put into practice immediately. The company's commitment is to enable organizations to be ready and able to protect, preserve and recover their most important assets: people, reputation, facilities, and financial resources. http://www.rothsteinpublishing.com
Request a review copy of Lukaszewski on Crisis Communication