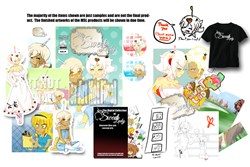 The 'My Sweet Lady' product line is offered in a series of 11 rewards gift sets...
Youngstown,OH (PRWEB) January 27, 2014
Teen/YA publisher Black Streak Entertainment has launched a product line based off of the imprint's upcoming comic book 'My Sweet Lady'. The 'My Sweet Lady' product line (designed by creator/artist/Black Streak Entertainment Co-Founder Justin Raimey) is offered in a series of 11 rewards gift sets, each comprised of products designed especially for each set.
"The Baker's Choice Rewards Package" is an example of one rewards package set, a 13 item package that consists of an autographed special edition copy of 'My Sweet Lady' issue #0, a 'thank you' credit dedicated to the rewards package purchaser in an issue of the comic, a PDF copy of "The Cook Book: The Essential My Sweet Lady Guide (Master Chef's Edition)", a Limited Edition My Sweet Lady art print signed by creator/artist Justin Raimey, a Limited Edition My Sweet Lady bookmark, a copy of the comedy graphic novel hit 'Fiji Random: Vol. 1', 2 My Sweet Lady button pins, 2 3'' My Sweet Lady character stickers, My Sweet Lady postcard autographed by Justin Raimey with an original character sketch drawn on the back of the card, bonus PDF 4-panel My Sweet Lady comic strips, and the official exclusive My Sweet Lady T-Shirt.
My Sweet Lady (MSL) is a new and wacky action-adventure comedy comic book series by Justin Raimey (Artist/Story) and Terry L Raimey (Story). The story focuses on a cake princess with a rotten attitude named Lady White Cake, and her quest to transform into someone that everyone will love and respect with the help of her little friend, Cupcake. Due to the sudden and mysterious death of Lady White's father, the King, she will have to take his place as ruler of her kingdom in a month's time, while uncovering the truth behind her father's death. Every chapter of MSL will be published (printed) in full-color comic book issues.
All proceeds raised through the sales of the 'My Sweet Lady' rewards packages will go towards the promotion, printing, and distribution of the comic. The My Sweet Lady rewards packages are available exclusively at blackstreakstore.com