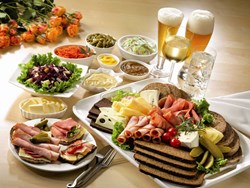 Spectrum Food Safety Training is Outstanding! Effective Food Safety Training helps resturant managers to prepared and served food safely thereby decreasing food poisoning incidents
Highland Park, IL (PRWEB) January 28, 2014
Food safety management training is something every restaurant and dining establishment needs to make sure they pass periodical inspections. Spectrum Training Services, Inc. is happy to announce the addition of these services to their repertoire of training services offered as they expand their business across the state of Illinois.
Beginning in late February of 2014, Spectrum will help dining establishments prepare for the ServSafe Food Protection Manager Course and Certification Exam. Service rates will be listed on their updated website at http://www.illinoisoshatraining.com/.
Included in the training will be:
The Importance of Food Safety
Good Personal Hygiene
Time and Temperature Control
Preventing Cross-Contamination
Cleaning and Sanitizing
Safe Food Preparation
Receiving and Storing Food
Methods of Thawing, Cooking, Cooling and Reheating Food
HACCP (Hazard Analysis Critical Control Point)
Food Safety Regulations
And more…
The ServSafe® program provides food safety training, exams and educational materials to foodservice managers. Students can earn the ServSafe Food Protection Manager Certification, accredited by the American National Standards Institute (ANSI)-Conference for Food Protection (CFP). The program blends the latest FDA Food Code, food safety research and years of food sanitation training experience. Managers learn to implement essential food safety practices and create a culture of food safety. All content and materials are based on actual job tasks identified by foodservice industry experts. More information on this program can be found at https://www.servsafe.com/manager/food-safety-training-and-certification.
To find out more about these services please contact Spectrum Training Services, Inc. at 877-366-0611 or at info(at)illinoisoshatraining(dot)com.
About Spectrum Training Services:
Spectrum training services, a state partner to the Occupational Safety and Health Administration (OSHA), provides Occupational Safety and Health Training to employers and employees in the construction, general, and healthcare industry. Spectrum now provides Food Safety Training for Resturant Managers and Food Handlers. Spectrum's safety and health training in workplace safety is shown to reduce occupational injury, illness rates and workplace-related deaths. The company offers 10-Hour OSHA training for employees and 30-Hour OSHA training for employers, managers, supervisors, human resources personnel, and risk management managers. Its mission is to provide effective training that leads to a decrease in job site injuries, accidents, and deaths. For more information on our company please visit http://www.illinoisoshatraining.com/.