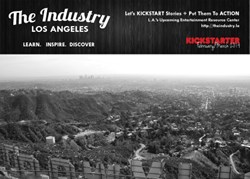 There are so many good people doing good work, it's almost too selfish to not share that talent!
Los Angeles, CA (PRWEB) February 06, 2014
This Summer, The Industry, an upcoming entertainment resource center, is making its premiere debut with the biggest industry in town. The collective creative workspace will start things off with a pop-up that will give guests a taste and a "mini" experience of what the future Industry space will be. 
Setting a different approach and feel to the everyday co-work space, The Industry will draw entertainment newbies and professionals and add sophistication, Hollywood pizazz and a think tank of creative flowing juices. The Industry will become Hollywood's playground.
Founder, Cherie Marquez, wants those new and old to the large city of Los Angeles to be able to have a basecamp where they can discover, learn and continually be inspired to tell their stories through whatever their entertainment work be. "L.A. can be so overwhelming and spread out at times, I want a central place for people to do their thing. There are so many good people doing good work, it's almost too selfish to not share that talent!" says Marquez. "You'll find all kind's of storytellers here. We'll host actors, producers, directors, writers, you name it! It's a good time for us to be here, we're very excited to be able to hear stories flow in and out of our door!"
The Industry will also feature and spotlight through it's amenities local L.A. artists/designers of all kinds in addition to the creative film/tv talent. Already partnering with so many interested and ambitious talent, artists and designers, Marquez continues to build out a robust program and experience that will bring action to the biggest dreamers. Some of the services and events that The Industry will offer will include: lectures, workshops, pitch sessions, casting calls, competitions, live music and a cafe.
To increase awareness and be able to gain additional support in the community, The Industry just launched a Kickstarter campaign to help with the first pop-up costs. Details of the pop-up and updates of the company and its program can be found at http://www.theindustry.la.