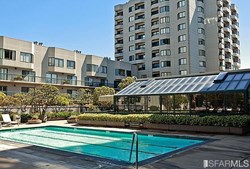 The buyer's purchase of 601 Van Ness Avenue #20 came out to be $640 per square foot. The highest price per foot at Opera Plaza was over $860, paid for a 550 square foot, junior one-bedroom condo.
San Francisco, CA (PRWEB) January 28, 2014
A post at HomesSF.com reported that Kirk and Peggy Economos, agents for luxury properties in San Francisco, represented the buyers in the purchase of 601 Van Ness Avenue #20 in San Francisco. The townhouse condominium unit was purchased on December 17, 2013 for a price of $771,000, making it the highest priced paid for any of the 450 residential units in the Opera Plaza Complex since 2006.
HomesSF.com reported that the buyers will undertake extensive renovation to the two-bedroom, three bath condo, some of which appeared to be in original 1982 condition. The condominium is a two-story townhouse with a private courtyard entrance and containing approximately 1250 square feet.
$771,000 is the highest price paid for a condo at Opera Plaza since a 1460 square foot unit sold for over $800,000 in 2006. However it is not the highest recent price per square foot at Opera Plaza and it is well below the price per square foot of newer complexes that offer less in the way of ambiance, location and amenity.
HomesSF.com quoted Peggy Economos: "The buyer's purchase of 601 Van Ness Avenue #20 came out to be $640 per square foot. The highest price per foot at Opera Plaza was over $860, paid for a 550 square foot, junior one-bedroom condo that also closed in December 2013. At nearby developments, condominiums are selling for more than $1,000 per foot. Considering all the facts, #20 at Opera Plaza was a bargain."
Opera Plaza was completed in 1982 and was designed as a self-contained urban village of 450 residential units, 80,000 square feet of commercial space (including restaurants and a movie theater) and 600 underground parking spaces. It takes up an entire city block and with its large protected central courtyard and numerous amenities, it is an island of relative peace and ease in the middle of an active urban area.
It is was named Opera Plaza because it is only 3 blocks to the San Francisco Opera, the San Francisco Ballet and San Francisco's Davies Symphony Hall. Opera Plaza is also just a few blocks from San Francisco's beautiful city hall.
Kirk and Peggy Economos worked closely with buyers to put together the winning bid on the purchase. Although Peggy had a long-term relationship with the buyers, they were new to the 2013 San Francisco market and were not aware of the extent to which buyers would compete for a property.
Listed at under $700,000, in the end, Kirk and Peggy had the buyers reconsider the amount of their offer three times, and finally convinced them to deliver an offer of $771,000. From information received after the sale, they determined that there were as many as 6 other offers on the property and the nearest offer was only a couple of thousand under their buyer's successful bid.
Peggy Economos and Kirk Economos are luxury residential property specialists that work as agents with Pacific Union International - Christies International Real Estate at their Presidio Office in San Francisco. They are a wife and husband team that has consistently produce exceptional results for the buyers and sellers they represent.
HomesSF.com is their exclusive online presence and the site provides information on the local San Francisco luxury residential market as well as news, insight and information on national and global high-end properties and markets.
For buyer and seller representation, real estate information in San Francisco or for a qualified luxury property referral in your specific area contact: Peggy and Kirk Economos, http://HomesSF.com , call: (415) 271-6390, or email: peconomos(at)pacunion(dot)com.