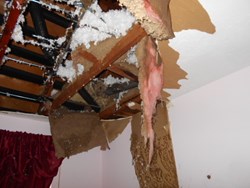 A majority of the roofs in Southern California are in some state of disrepair.
Irvine, CA (PRWEB) January 28, 2014
Three years of drought, coming on the heels of the worst economic downturn since the Great Depression, has left the rooftops of many Orange County communities vulnerable, as homeowners have put off inspections and repairs to save money.
This may be the driest winter on record, but delays in roof inspections and repairs – while understandable – may end up being more costly in the long run, one of the region's leading roofing contractors explained.
"Collectively, a majority of the roofs in Southern California are in some state of disrepair," said Charles Antis, owner of Antis Roofing and Waterproofing. "A normal year of rain (13.1 inches) will result in substantial property loss. A heavy rain of 2 to 3 inches over a 24-hour period will likely create a state of emergency due to roofing failure, with damage that could exceed $20,000 per unit for some homeowners associations."
Common talk among those in the industry is that roofs, decks and wood trim in Southern California are in the worst condition we have seen in our lifetime.
The warning may seem dire, but Antis has decades of experience in the business and has seen it all.
Every year, news of collapsed rooftops in stores, gas stations, even the famous Metrodome collapse make headlines; residents are displaced, businesses closed, and properties condemned.
Moreover, when the big rains come – and they will – calls for service will escalate dramatically, overloading roofing companies and driving a spike in the cost of repairs.
"It's the dramatic stories of roof damage that make the 6 o'clock news," Antis said. "What's not told is the collective damage that occurs when leaks and roof failures become widespread within a community."
Antis sees this happen frequently. HOAs, in an effort to keep monthly dues low, will ultimately suffer losses – sometimes facing condemnation -- misleading themselves into believing that dry weather means their roofs are in good standing. The reality is that light rains leak water into roofs and wall cavities undetected, causing excessive dry rot and structural degradation.
"We don't like doing costly and dangerous emergency repairs any more than our clients, do," said Antis, who as a board member for Habitat for Humanity believes in the sanctity of a home. "Regular maintenance, reroofing and decking installation ends up being much more cost-effective and in the end, that makes everyone happy."
Since 2009, Antis Roofing has donated more than $500,000 in roofing installations (approximately 60 homes) for Habitat for Humanity. This year, 30 new homes are scheduled for construction. Antis will be donating all roofing installations for those projects.
About Antis Roofing and Waterproofing
ARW was founded in 1989 and quickly established itself as a major player in the roofing, decking, and exterior shell waterproofing industry in Southern California. Today, ARW provides high value and innovative waterproofing solutions exclusively to homeowners associations throughout the Southern California region (Los Angeles, Orange, Riverside, and San Bernardino Counties). ARW belongs to CAI, CAA and CACM organizations and has donated roofs to over 60 homes to Habitat for Humanity Orange County, of which owner Charles Antis serves on the board. To learn more about Antis Roofing and Waterproofing, Inc., visit http://www.antisroofing.com.