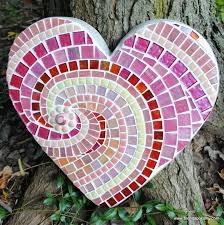 I can't think of a better way to celebrate a season of love than with art and wine!
Ferndale, MI (PRWEB) January 28, 2014
Inspiration Uncorked is bringing love to downtown Ferndale with a week of unique Valentine's Day Classes perfect for couples, families, and groups of friends. The DIY art party studio is featuring its Valentine's Day classes from February 7th through February 16th.
Valentine's Day couple ideas begin with Heart Mosaic Making on February 7th. For $60/couple, pairs can enjoy time together making a unique work of art to commemorate their love. For those looking to celebrate on the 14th, the class is offered again on Valentine's Day. Relax and reconnect with each other with Zentangle meditative drawing on February 12th. Another exciting couples class is It's All About Her, a $75/couple class featuring Silver Clay jewelry, on February 15th and 16th. During this class, two pieces of jewelry are made; she gets to make and wear one, and he can make a piece of jewelry to give to her for Valentine's Day.
Families will also enjoy the hands-on creativity that Inspiration Uncorked offers. Children of all ages along with their parents can come together for Family Mug Painting, which is being offered on Sunday, February 16th and is only $10/person.
"Bring a bottle of red wine and a box of chocolates, and let us do the rest," says owner Mary Higgins. "I can't think of a better way to celebrate a season of love than with art and wine!" Additional classes are being added to Inspiration Uncorked's Valentine's Day schedule. Students are encouraged to visit Inspiration Uncorked's website, or call 248.877.8689 to learn more about the love-inspired events coming to downtown Ferndale.
Inspiration Uncorked is an art party studio located in downtown Ferndale, Michigan. With a large selection of public and private classes, Inspiration Uncorked provides everything necessary for a unique and creative night with friends. Learn more at inspirationuncorked.com, facebook.com/inspirationuncorked, or on twitter at @ferndaleDIYart.