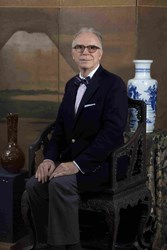 "Lark Mason is the first Antiques Roadshow expert to appear on The Collectors Show," said host Harold Nicoll. "We were very pleased to have him and believe the audience will appreciate his insight and leadership in the field.
Lake Jackson, Texas (PRWEB) January 27, 2014
Do antiques and fine collectibles belong with online auctions? Yes, and it is nothing new as Lark Mason describes during his interview this week on The Collectors Show (http://www.webtalkradio.net).
Known for his role as an expert on the popular PBS program, "Antiques Roadshow" Mr. Mason is the author of numerous articles on Asian art, the translator of two major works on Chinese furniture, and the author of the acclaimed guide to the arts of Asia, Asian Art. In addition, he is the owner and founder of iGavel.com, an international fine-arts and antiques auction site with consignment centers located throughout the United States and abroad.
iGavel was among the first of its kind site and celebrated its tenth year in business during 2013. Followed by other similar sites, iGavel distinguishes itself through superior service, guarantees and auctions structured to be fair to all who are genuinely interested in buying an item. "Every sale is on a "carefully contrived schedule" – before one auction ends another has already started, and there is "constant site updating," keeping buyer interest from beginning to very end," Mason said.
iGavel is offered by a network of independently owned auction houses, dealers, appraisers and other arts professionals. Sales are held in a traditional auction-catalog format entirely online, with each lot accompanied by a number of images, with clear professional descriptions, complete condition reports, and starting bids that are the reserves. While bidding takes place online, most sales on iGavel offer "live" exhibitions at 229 E 120th St in New York City so buyers can examine and handle property first-hand.
Advantages for Buyers/Collectors
iGavel provides an easy-to-use format that presents property from a variety of sellers across the United States and abroad. "Our sellers are all professionals and objects offered on the iGavel site are guaranteed for authenticity and condition. iGavel's regional consignment centers present single objects or entire collections before an international audience at a minimal expense for the seller and buyer" Mason said.
Lark Mason is the first member of the Antiques Roadshow cast to appear on The Collectors Show.