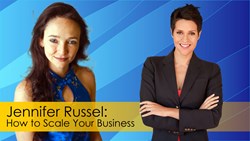 This leadership superstar believes "The world will be saved by Western women."
San Francisco, CA (PRWEB) January 27, 2014
Are you "all in" in the game of life and business? Jennifer Russell of Mind Money Meaning is. More than just the co-creator of Mind Money Meaning, this coaching expert's list of achievements include facilitating the L7 Leadership Program with her partner Bryan Franklin and leading the California Leadership Center as the current president.
Russell shares her thoughts on creating extraordinary results in Alicia Dunams' latest ALL IN podcast. Every week, the ALL IN podcast series takes listeners behind the scenes in a chat with select experts, leaders, and entrepreneurs to inspire anyone looking to jumpstart their leadership abilities. Featured guests join Dunams, a fellow entrepreneur and coach of the popular Bestseller in a Weekend program, to talk about their accomplishments and how they are "all in" when it comes to changing the world and achieving personal success.
In this brand-new podcast, Russell reveals her philosophies on leadership and life, including:

Why women need to view leadership as a craft to be mastered
How true leaders focus on their people
Why a good leader must bridge emotion and logic
Why both male and female traits are essential in a strong leader
Learn more about Jennifer Russell and Mind Money Meaning on the Web. For more exclusive chats with featuring top business leaders and up-and-coming entrepreneurs, check out the ALL IN podcast series here.
Alicia Dunams is the founder of Bestseller in a Weekend, a live online workshop that helps business professionals write, publish, and market books in record time. Dunams also coaches her clients on how to promote their book and achieve bestseller status. To contact Alicia Dunams, please visit http://www.aliciadunams.com.