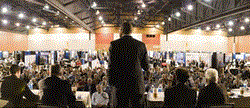 We're pleased to welcome back EPA and DOE, along with newcomers Allete, Resources for the Future and NREL.
(PRWEB) January 27, 2014
EUEC 2014 will kick off with outstanding opening session speakers Janet McCabe, Acting Assistant Administrator for the U.S. Environmental Protection Agency's Office of Air and Radiation; Christopher A. Smith, Acting Assistant Secretary for the U.S. Department of Energy's Office of Fossil Energy; Alan R. Hodnik, Chairman of Allete; Philip R. Sharp, President of Resources for the Future; Bryan Hannegan, Associate Laboratory Director of DOE's National Renewable Energy Laboratory; and Dr. Prabhu Dayal, president of C-Trade and chairman of EUEC.
More than 1300 delegates have pre-registered for the 17th annual Energy, Utility & Environment Conference (EUEC) set for February 3 through 5 at the Phoenix Convention Center.
"EUEC is proud to provide the forum for leaders to discuss environmental, economic and national security goals that shape our domestic energy policies and directly impact energy companies and consumers," said Dr. Prahbu Dayal, EUEC Chairman. "We're pleased to welcome back EPA and DOE, along with newcomers Allete, Resources for the Future and NREL."
EUEC offers an outstanding technical program with 500 expert speakers from utility, government, academia, and industry making presentations over three days in these subject areas: air policy and regulations; mercury and multi-pollutant control, air pollution monitoring; control technologies; natural gas and energy security; energy and climate policy; renewable energy and electric vehicles; carbon capture and storage; corporate greenhouse gas strategies; biofuels, biomass, and biogas; sustainability and reliability; energy efficiency; operations and management.
For more information or to register online, visit http://www.euec.com or call (520) 615-3535.
About EUEC
EUEC is the 17th annual energy, utility and environment conference organized with a team of directors from the US DOE, the Electric Power Research Institute, the Edison Electric Institute, and C-Trade. The conference features a plenary program, followed by a technical program of 10 concurrent tracks with 500 speakers. 150 exhibit companies provide the latest innovations and technologies that can benefit the energy and utility industry. EUEC 2014 will be held February 3 -5, 2014 in Phoenix, Arizona with an expected attendance of 1,500 delegates. To attend, speak, or exhibit at EUEC contact us at (520) 615-3535.