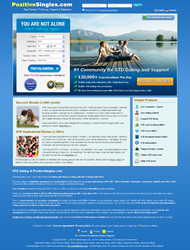 Los Angeles (PRWEB) January 29, 2014
In anticipation of Valentine's Day, the premier dating and support website for people who suffer from sexually transmitted diseases, PositiveSingles.com, has asked its members for examples of the worst gifts they have ever received on this important day for lovers. Some of the gifts received were thoughtless and some were downright unthinkable. The site took the examples and asked the members to vote on which one they think would be the one that is so bad it could possibly end the relationship.
The one that was voted the worst gift of all the examples was a man who gave his girlfriend a tape that was given to him from his ex-girlfriend. This thoughtless gift won with 35.7 percent of the total votes. One male member said, "That totally is a disaster." Most of the members that voted left comments saying that they would break up with him immediately on Valentine's Day.
The second-worst gift was a card that one female member received that said, "Your gift is in my pants." This was voted the worst gift by 26.67 percent of the members. One female member expressed she would feel very let down by this gift and it would leave her with a feeling of sadness. Some female members left comments saying they would feel disgust toward a boyfriend that would do such a thoughtless thing.
The third-worst gift was a woman who was told that she needed a gym membership. This gift received 21.32 percent of the votes. Members felt that everyone may need a gym membership, but Valentine's Day is not the day to tell someone that. It's supposed to be a special, romantic day to show the other person how much he or she is loved and appreciated. "I want care, but not on that day," one female member said.
The fourth-place gift, with 16.32 percent of the votes, was a product for men called Fresh Balls. It relieves the wet and sticky feeling of sweat in the groin area. Most male members said they would not end the relationship if they received this gift, but it is a funny gift for a man to receive on that day. One male member said, "If I received that, I would say to her, 'Baby, we need to talk.'"
The fifth-place gift was no gift at all, with 10.13 percent of the members' votes. Some members think that getting nothing at all is the worst gift on Valentine's Day. No one really wants to be forgotten on that day, even those people who say it doesn't bother them to get nothing.