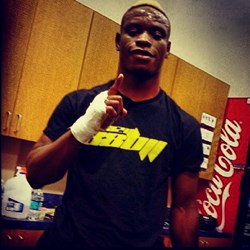 "I was excited to get back in there and put on a show!"- Peter Petties, 4-1 Mixed Martial Arts Fighter
Elkridge, MD (PRWEB) January 27, 2014
Mixed Martial Arts fighter, Peter Petties, of Crazy 88 MMA gym in Elkridge, Maryland, won a unanimous decision over Alvin Blocker at Stellar Fights 20.
Peter Petties, sporting a 3-1 record entering the fight, controlled Blocker from the start of the fight, utilizing strong grappling skills to takedown and immobilize Blocker. Petties, a Blue Belt in the Brazilian style of Jiu-Jitsu, was able to secure the dominant mount position in both the 1st and 2nd round. In round 3, Petties displayed more of his standup striking skills before once again taking his opponent to the ground. He was awarded a Unanimous Decision in this 155 lb fight and improved his record to 4-1.
"I was excited to get back in there and put on a show!" remarked Petties who has been inactive on the Mixed Martial Arts scene since 2011.
"I've been focusing a lot on my Muay Thai and Jiu Jitsu. I spent a month in Thailand working on my striking and have been actively competing in Jiu Jitsu and No Gi tournaments too."
Peter Petties is a coach and student at Crazy 88 BJJ - Elkridge, a Mixed Martial Martial arts gym located in Howard County, MD. Prior to dedicating his life to fighting, Petties wrestled at Oakland Mills High School and graduated from Morgan State University with a degree in education.
For more information on Crazy 88 Martial Arts gyms, please visit http://www.WholeMonthFree.com or call (443) 283-1450. Crazy 88 offers classes for Children and Adults and has locations in Howard County, Baltimore County, and Frederick County.
Stellar Fights regularly runs WKA- sanctioned events in the state of Delaware. Events include grappling, kickboxing (muay thai and k-1), and mixed martial arts. Visit their facebook page at https://www.facebook.com/pages/Stellar-Fights/131891540199370 for the latest information.