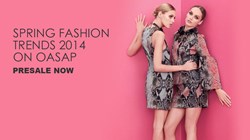 Oasap.com is offering up to 75% discount on all products under its clearance sale now.
New York, NY (PRWEB) February 04, 2014
2014 has started, and a new year means it's time to update the wardrobe on the most stylish of fashions. OASAP, as a leading women fashion online store, has issued a pre-sale collection for spring 2014 today. From party dresses to chiffon blouses along with the cutest accessories, Oasap.com will be keeping you on trend and in fashion right across spring 2014.
"We shot the first collection for spring 2014 and made it available online over pre-sale, which will help us to get some much-needed orders to reduce the manufacturer's price, it's also the reason that we can provide 25% off for all customers from this collection," said Mrs. Yuki, OASAP product manager.
As OASAP does each year, Oasap Ltd. is publishing a guide to this year's best looks and major trends. After the break you'll be able to explore the best of what's in fashion in 2014, from A-line dresses to mini skirts, from printed T-shirts to hot shorts, for spring and summer.
OASAP will be frequently updating all the trend products across 2014, so make sure OASAP's fans stay up to date with all the latest fashion trends by following to Oasap.com's Pinterest or Facebook.
By the way, Oasap.com is offering up to 75% discount on all products under its clearance sale now. This offer is valid on apparels, shoes, bags and other categories. Check the details here.
About OASAP
OASAP IS: A High-street Fashion Online store
OASAP Likes to: Deliver fashion & love!
OASAP is a global online store dedicated to high-street fashion by offering various kinds of women's apparel, bags, shoes, jewelers, accessories, beauty products, etc.
OASAP was founded in late 2011, and has already grown to be the leader of high fashion online stores. It keeps updating products at a high rate of more than 300 new products each week. The products mentioned before definitely belong to the latest fashion trend.