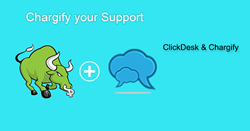 Deliver exceptional support with billing information on your finger tips.
Sunnyvale, CA (PRWEB) January 28, 2014
ClickDesk Inc, a leading provider of live chat and online visitor engagement software, today announced an integration with Chargify, a popular billing and recurring subscription management software.
The integration with Chargify gives support agents quick access to billing information directly from the ClickDesk live chat window. This integration eliminates the need to manually look up information from multiple systems to handle support chats and calls.
"ClickDesk is currently powering over 100,000 customers across 120+ countries. Our mission is to help businesses deliver exceptional customer service and change the way they interact with customers. Our Chargify integration is a step in this direction. We will continue to bring the best possible integrations to make ClickDesk the one stop solution to engage online visitors," says Manohar Chapalamadugu, CEO of ClickDesk.
Some of the key benefits of the integration:
1. Provide priority support - Identify your paid customers using Chargify subscription details and give extra attention to your VIP customers.
2. Resolve billing issues faster - Billing issues are notorious for confusing customer support agents. Varying levels of access makes it even more difficult. Our Chargify integration empowers your support agents by giving them access to billing through simple chat commands. This ensures that your customers get the best support they deserve.
Setting up this integration is quick and easy. To learn more, please visit Chargify Integration.
Clickdesk offers a free forever plan, while paid plans start at $9.99. ClickDesk is the only provider in the industry offering 99.95% uptime guarantee across all plans. Signup for a free plan today.
About ClickDesk
ClickDesk is a web-based, multi-channel online visitor engagement software offering live chat, help desk, voice chat, video chat & social media toolbar. Over 100,000 startups and small businesses use ClickDesk everyday to convert their web visitors to happy customers. ClickDesk has offices in Sunnyvale, Hyderabad and Cebu City.