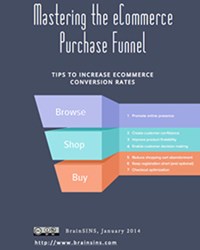 (PRWEB) January 29, 2014
BrainSINS just published a free eBook to help online businesses increase their sales performance figures. The book is titled "Mastering the eCommerce Purchase Funnel" and will showcase some essential tactics owners should be using. The core of the book rests on the idea that these online businesses can funnel online users in to full-fledged consumers. This is an important consideration for owners to keep in mind, because it can enable them to structure the way that they draw in consumers. Some online business owners may not even realize that they can take proactive steps to boost sales. This will give people the opportunity to revamp their sales strategy going forward.
It will first be important for readers to understand the basic concept of the purchase funnel. The funnel will help owners identify people who might be interested in buying their product. Owners should have a plan for how they will continually bring in new prospective customers who will simply be interested in learning more about what they are selling. When they have a consistent stream of leads, owners can then focus on funneling them towards becoming committed consumers. This can give business leaders the support that they need to generate higher sales figures and just keep their business profitable over time.
The e-book will also provide its readers with a general breakdown of how they should conceptualize this purchase funnel. It all starts with the browse stage, which will draw in viewers who will simply be searching for something in general. Owners can then try to move them in to the shop stage, which will encourage people to look around for what is available. It will be important to then move shoppers in to the buy stage, which will help generate the sales figures that owners want to see. Every stage of this process has been broken down into steps, which will help owners understand more about the process going forward.
Of course, this e-book is also packed full of other helpful tips for owners. It can make them aware of common issues related to online shopping. For instance, some owners might be interested to know that 75% of online customers will abandon their shopping carts with items inside. Some owners may want to think about how they can cut down on this figure and close with their customers. The e-book can also help optimize the checkout process and just make their site more user friendly in general. This will give them the support that they need to enhance the overall sales process.
The e-book itself will be approachable and easy to digest for almost all business owners out there. It introduces some vitally important sales concepts, but explains them well for everyone involved. This will help owners identify some of the changes that they want to make for their site. If anyone has ever wanted to revamp their site and boost sales, they need to read this book for themselves. It could mark a turning point in the way that they have done business up until now.
You can download this eBook for free.
About BrainSINS: BrainSINS offers a 360º personalization suite for eCommerce merchants, including personalized recommendations, behavioral targeting, email retargeting and eCommerce analytics.