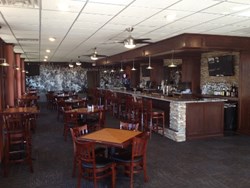 Milan, IL (PRWEB) January 27, 2014
Leading commercial furniture distributor, Restaurant Furniture Supply recently helped Pinnacle Country Club in Milan, IL by supplying it with new seating for their recently remodeled bar and grill, Packer Lounge.
Pinnacle Country Club features an 18-hole golf course located in the quiet countryside outside Milan, Illinois, where golfers of all abilities enjoy beautifully manicured fairways and the challenge of hills, valleys, and streams. Located just 10 minutes from Veteran's Memorial Bridge at Carr's Crossing, Pinnacle Country Club is an ideal recreational break for members throughout the Quad Cities. Pinnacle is the only family owned, private country club in the Quad Cities area.
The owner recently remodeled clubs lounge. The Packer Lounge has four 52" plasma TVs, making it the perfect place for members favorite team in action. Just outside the lounge, there is a beautiful patio that offers panoramic views of the 18th hole and the surrounding countryside. The Packer Lounge is open for lunch or dinner. The club also has a spacious dining room and game room.
"The owners contacted to Restaurant Furniture Supply for new restaurant chairs and bar stools because of their reputation for high quality at competitive prices", explained sales person Zach. For seating, he decided to go with Restaurant Furniture Supply's Vertical Slat Wood Chairs and matching Vertical Slat Wood Bar Stools in mahogany wood finish with solid wood seats. The Vertical Slat Wood Chairs are currently on sale at Restaurant Furniture Supply for $56 and the Vertical Slat Wood Bar Stools are on sale for $80. They are available in 5 standard finishes. The chairs and bar stools come with the option of a solid wood seat or a padded seat made with American made foam and fabric. A custom finish can also be made for an additional fee and the padded seats can be made of any material.
The solid wood chairs and bar stools are made in the USA from wood responsibly harvested in the Midwest. "Restaurant Furniture Supply is committed to being a responsible corporate citizen and supporting American jobs" says Zach. "That is why we recently moved our facilities to the US".
Browse Restaurant Furniture Supply's full selection of commercial grade chairs, bar stools, table tops, table bases, booths and patio furniture at http://www.restaurantfurnituresupply.com or talk to a customer service representative at (888) 346-9992
Pinnacle Country Club is located at 11928 Knoxville Rd. in Milan, IL. They can be contacted at (309) 787-6191.