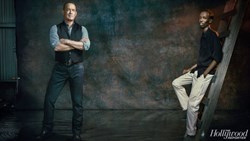 'Captain Phillips' was one of the most well reviewed films of 2013
(PRWEB) February 01, 2014
According to Explore Talent News, Paul Greengass's "Captain Phillips" was one of the most well reviewed films of 2013. It is a poignant action thriller telling a true story of war, crisis, and adversity. It has received several Oscar nominations. One of those is for actor Barkhad Abdi, who plays the film's main antagonist. Abdi was able to utilize his real life experiences as inspiration for his role.
Barkhad Abdi was recently interviewed and discussed the influence his life had on his performance. In the movie, Abdi portrays a Somali pirate who takes a merchant ship hostage. In actuality, Abdi is from Somalia. He and his family lived through years of civil war until they were able to escape. Abdi was quite candid about his past and expressed his delight and thankfulness that he has made it from such harsh beginnings to a life of film auditions and acting jobs in Hollywood. Though he is now rather famous and has been highly praised for his work in the film, Barkhad remains modest.
"Captain Phillips" recounts the actual events of a commercial ship that was pirated in the Gulf of Aden in 2009. Captain Phillips, the ship's commander, defied the requests of the pirates and a battle of wills arose between himself (Tom Hanks) and the main pirate (Barkhad Abdi). After a drawn-out and distressing trial, the US Navy rescued the ship.
Abdi's performance attracted much critical and audience favor. He is considered one of the top contenders for the Best Supporting Actor Oscar this year.
Since its debut in 2003, ExploreTalent has become the Internet's largest resource for actors, models, musicians, dancers, and production crew. Explore Talent's proprietary cast match technology is the most advanced entertainment-based technology of its kind. It matches a talent's attributes against tens of thousands of job postings every day. Explore Talent's unique technology sends casting email alerts and posts auditions and jobs directly on talents' profiles, saving members hours of time from tedious searching. Explore Talent has proven to be the best possible destination for talent to find modeling and acting auditions with well over 7.9 million members and over 60,000 auditions, castings, and production jobs listed - 40 times more postings and open casting calls than any other site.
The site's popularity is based on the fact that there are many ways for talents to network, make friends and connect with other industry players, participate in a wide variety of contests and earn prizes for being active on the site. The online community has been responsible for new collaborations and business ventures in entertainment because of opportunities for individuals to network and chat with each other. Furthermore, the Explore Talent site features celebrity videos, exclusive interviews with actors, actresses, and musicians, such as Akon and T-Pain.
Check more movie and film auditions here.