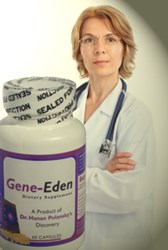 We recommend taking Gene-Eden-VIR to reduce symptoms of an EBV infection.- Mike Evans, polyDNA
Rochester, NY (PRWEB) February 02, 2014
Studies have found a strong link between the Epstein Barr Virus (EBV) and certain types of arthritis, like Systemic Lupus Erythematosus (SLE). polyDNA recommends Gene-Eden-VIR against the latent EBV. This natural product was clinically proven to reduce symptoms of an Epstein Barr Virus infection in a study that followed FDA guidelines.
Some people believe that SLE is not as bad as rheumatoid arthritis. However, this autoimmune condition most often harms the heart, joints, skin, lungs, blood vessels, liver, kidneys, and nervous system. The course of the disease is unpredictable, with periods of illness (called flares) alternating with remissions. Moreover, "systemic lupus erythematosus is important because it is a potentially fatal disease that is easily confused with many other disorders." (See the New England Journal of Medicine, from February 28, 2008) (2).
"The prevalence of lupus ranges from approximately 40 cases per 100,000 persons among Northern Europeans to more than 200 per 100,000 persons among blacks. In the United States, the number of patients with lupus exceeds 250,000 (2)." In addition, "a patient in whom lupus is diagnosed at 20 years of age still has a 1 in 6 chance of dying by 35 years of age, most often from lupus or infection (2)."
Some scientists believe that the link between EBV and lupus arthritis may be as strong as the link between EBV and MS (Multiple Sclerosis). "The association between prior infection with EBV and MS has been established beyond reasonable doubt, with the rate of seropositivity to EBV in MS approaching 100% … (and)… Overall the evidence for prior exposure to EBV … favour an association (1)."
"We recommend taking Gene-Eden-VIR to reduce symptoms of an EBV infection." Mike Evans, polyDNA
A study published on August 12, 2013 in the peer reviewed, medical journal Pharmacology & Pharmacy, in a special edition on Advances in Antiviral Drugs, showed that Gene-Eden-VIR reduced EBV symptoms. Study authors wrote that, "Individuals infected with the Epstein Barr Virus…reported a safe decrease in their symptoms following treatment with Gene-Eden-VIR (3)." The study authors also wrote that, "We observed a statistically significant decrease in the severity, duration, and frequency of symptoms (3)."
To learn more about Gene-Eden-VIR, and EBV, visit http://gene-eden-kill-virus.com/EBV.php. All orders of Gene-Eden-VIR are completely confidential, and no information is shared or sold to any third party. Privacy is assured.
References:
(1) Systematic review and meta-analysis of the sero-epidemiological association between Epstein-Barr virus and systemic lupus erythematosus. Published on January 6, 2014.
http://arthritis-research.com/content/16/1/R3
(2) Systemic Lupus Erythematosus - Mechanisms of Disease. Published on February 28, 2008.
http://www.nejm.org/doi/full/10.1056/NEJMra071297
(3) Gene-Eden-VIR Is Antiviral: Results of a Post Marketing Clinical Study. Published on August 12, 2013.
http://gene-eden-kill-virus.com/PP_Gene-Eden-VIR-is-Antiviral.pdf
polyDNA is a biotechnology company that develops dietary supplements using the unique scientific method developed by Dr. Hanan Polansky, which is based on Computer Intuition.
In addition to his unique scientific method, Dr. Polansky published the highly acclaimed scientific discovery, called Microcompetition with Foreign DNA. The discovery explains how foreign DNA fragments, and specifically, DNA of latent viruses, cause most major diseases.
polyDNA developed Gene-Eden-VIR, an antiviral natural remedy that helps the immune system kill latent viruses.