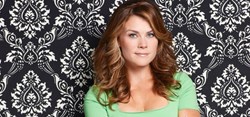 (PRWEB) January 31, 2014
In the television world, well-established and long-time soap opera actress Alison Sweeney made a staggering announcement Tuesday on the "Ellen DeGeneres Show". In a report posted in ExploreTalent.com news. "She indicated that this will be the final season of her TV job on the series "Days of Our Lives".
Sweeney had her initial television auditions to portray the character Sami Brady on "Days of Our lives" at the young age of 16. Now, 21 years later, she will be moving on.
When DeGeneres questioned the timing of the departure, Sweeney intimated that she will be prioritizing her time to her husband and two children. She has actually balanced two TV jobs for the last seven years, playing Sami on "Days of Our Lives," and hosting "The Biggest Loser."
It is with much sadness and fond memories that Alison has made her decision. She had many affectionate things to say about her coworkers, crew of "Days of Our Lives," and most of all her fans. She is uncertain about the ultimate fate of Sami on the show, but is optimistic that her end will not be overly morbid or bizarre.
Soap opera fans everywhere will mourn the loss of Sami, as they have seen her, and Alison Sweeney, grow up on the series. Both will surely be missed.
Since its debut in 2003, ExploreTalent has become the Internet's largest resource for actors, models, musicians, dancers, and production crew. Explore Talent's proprietary cast match technology is the most advanced entertainment-based technology of its kind. It matches a talent's attributes against tens of thousands of job postings every day.
Explore Talent's unique technology sends casting email alerts and posts auditions and jobs directly on talents' profiles, saving members hours of time from tedious searching. Explore Talent has proven to be the best possible destination for talent to find modeling and acting auditions with well over 7.9 million members and over 60,000 auditions, castings, and production jobs listed - 40 times more postings and open casting calls than any other site.
The site's popularity is based on the fact that there are many ways for talents to network, make friends and connect with other industry players, participate in a wide variety of contests and earn prizes for being active on the site. The online community has been responsible for new collaborations and business ventures in entertainment because of opportunities for individuals to network and chat with each other. Furthermore, the Explore Talent site features celebrity videos, exclusive interviews with actors, actresses, and musicians, such as Akon and T-Pain.