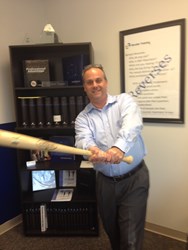 "Giving a business or a salesperson a slight edge in the sales process is often all it takes to win the deal."
Princeton, NJ (PRWEB) January 28, 2014
Sandler Sales Training firm, AGT & Associates Inc., will be hosting a Directors Briefing, " The Sales Driven Organization". This free event will be 2+ hours of insight into the world of why salespeople need a slight edge to gain more business.
This program for Presidents, CEOs and Sr. Sales Executives covers the underlying reasons why people "buy", why salespeople waste time with prospects who will never become clients, and some everyday challenges seen in the sales world. Additionally, attendees will better understand why our attitude plays such a key role in the world of selling.
"Businesses are looking for ways to improve their sales numbers on a daily basis", says David Trapani, CEO of AGT & Associates Inc, a Sandler Authorized Training Center. "We will explore how and why buyers behave in a certain manner. With that knowledge salespeople can implement a few strategies how to meet them half way."
There is no cost to the program but attendees must pre-register and qualify to attend.
About AGT and Associates Inc.
AGT & Associates, Inc. is an award winning authorized Sandler Sales Training Center in Princeton, NJ. AGT & Associates Inc. bring over 23 years of sales, marketing and management experience. Their focus is to help sales people and sales managers gain an edge to move their business to the next level. As a Certified Sandler Trainer, they teach their clients in the Sandler Success beliefs of Behavior, Attitude and Technique.
About Sandler Training
David H. Sandler developed the Sandler Selling System® methodology, an innovative, non-traditional selling system, in the late 1960s, and created the concept of 'reinforcement training' to support it. From that foundation, he went on to create a series of proven sales training programs for small- and mid-sized companies and Fortune 500 corporations, and founded the Sandler Sales Institute®.