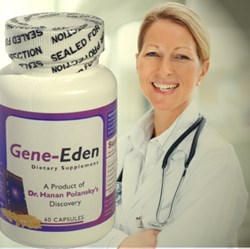 Cancer patients that experience severe fatigue should ask their doctors about Gene-Eden-VIR. As the scientists from the CBCD wrote, 'healthcare practitioners should recommend Gene-Eden-VIR as a treatment against fatigue. – Mike Evans, polyDNA
Rochester, NY (PRWEB) February 03, 2014
Studies show that up to 99% of cancer patients experience extreme tiredness and weakness. These patients describe fatigue as "one of the most distressing symptoms, with a profound effect on their daily quality of life (1)." Moreover, this fatigue "probably increases with subsequent treatment lines (1)." In other words, the more treatments a cancer patient must undergo, the more fatigue that individual feels. polyDNA recommends that cancer patients take Gene-Eden-VIR. This natural product was clinically proven to reduce physical and mental fatigue in a study that followed FDA guidelines.
Treatments for cancer, including chemotherapy, radiation therapy, and biologic therapy, can cause fatigue. "Patients describe fatigue as feeling tired, weak, worn-out, heavy, slow, or that they have no energy or get-up-and-go. Fatigue in cancer patients may be called cancer fatigue, cancer-related fatigue, and cancer treatment-related fatigue." (See Cancer.gov's page on cancer fatigue) (2).
Fatigue can affect all areas of life by making the patient too tired to take part in daily activities, relationships, social events, and community activities. "Patients may miss work or school, spend less time with friends and family, or spend more time sleeping. In some cases, physical fatigue leads to mental fatigue and mood changes. This can make it hard for the patient to pay attention, remember things, and think clearly. Money may become a problem if the patient needs to take leave from a job or stop working completely. Job loss can lead to the loss of health insurance. All these things can lessen the patient's quality of life and self-esteem (2)."
Cancer associated fatigue is not the same as regular feelings of tiredness in healthy people. "When a healthy person is tired by day-to-day activities, their fatigue can be relieved by sleep and rest. Cancer-related fatigue is different. Cancer patients get tired after less activity than people who do not have cancer. Also, cancer-related fatigue is not completely relieved by sleep and rest and may last for a long time. Fatigue usually decreases after cancer treatment ends, but patients may still feel some fatigue for months or years (2)."
"Cancer patients that experience severe fatigue should ask their doctors about Gene-Eden-VIR. As the scientists from the CBCD wrote, 'healthcare practitioners should recommend Gene-Eden-VIR as a treatment against fatigue.'" – Mike Evans, polyDNA
polyDNA points out that there are no FDA approved drugs that specifically treat fatigue.
A clinical study, conducted by scientists at the Center for the Biology of Chronic Disease (CBCD), and which followed the FDA guidelines for clinical studies, showed that Gene-Eden-VIR safely and effectively decreases the feeling of fatigue in treated individuals. Specifically, the study found that the natural antiviral product decreased the feeling of mental and physical fatigue (3). The abstract of the study was posted on the Center for the Biology of Chronic Disease website on December 28, 2013 ahead of publication.
To learn more about Gene-Eden-VIR, and how it reduces fatigue, visit http://gene-eden-kill-virus.com/decreases-fatigue.php. All orders of Gene-Eden-VIR are completely confidential, and no information is shared or sold to any third party. Privacy is assured.
References:
(1) Exploring the contribution of psychosocial factors to fatigue in patients with advanced incurable cancer. Published on January 24, 2014.
http://www.ncbi.nlm.nih.gov/pubmed/24458595
(2) National Cancer Institute - Fatigue (PDQ)
http://www.cancer.gov/cancertopics/pdq/supportivecare/fatigue/Patient/page1/AllPages#1
(3) Gene-Eden-VIR is Effective Against Fatigue: Results of a Post Marketing Clinical Study Conducted According to the FDA Guidelines. Page last updated on December 27, 2013.
http://cbcd.net/Gene-Eden-VIR-Decreases-Fatigue-Clinical-Study.php
polyDNA is a biotechnology company that develops dietary supplements using the unique scientific method developed by Dr. Hanan Polansky, which is based on Computer Intuition.
In addition to his unique scientific method, Dr. Polansky published the highly acclaimed scientific discovery, called Microcompetition with Foreign DNA. The discovery explains how foreign DNA fragments, and specifically, DNA of latent viruses, cause most major diseases.
polyDNA developed Gene-Eden-VIR, an antiviral natural remedy that helps the immune system kill latent viruses.