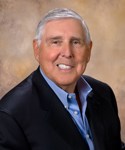 Tarrytown, NY (PRWEB) January 28, 2014
RestorixHealth board member Fred L. Brown has been inducted into Modern Healthcare's Health Care Hall of Fame, one of the industry's most prestigious recognitions. The Health Care Hall of Fame honors those who have made outstanding contributions to the healthcare industry.
Dr. Brown is nationally known for his almost 50 years in the healthcare industry, including his role as former Chairman of the Joint Commission (JCAHO), American Hospital Association and National Kidney Foundation. As the founding President and Chief Executive Officer of the BJC Healthcare System in St. Louis, MO, Brown developed and advanced the concept of integrated healthcare.
Steve McLaughlin, CEO for RestorixHealth states, "I would like to personally congratulate Fred on this remarkable achievement. We are fortunate to have him as key member of our Board where his guidance and oversight has been instrumental in our company's growth and strategic direction."
Dr. Brown has served on the Board of Directors for RestorixHealth for three years. RestorixHealth is a leader in developing and managing comprehensive wound care centers.
About RestorixHealth
RestorixHealth develops and manages comprehensive wound care centers of excellence that offer advanced treatment therapies along with hyperbaric oxygen therapy. Founded by physicians in 1997 to treat the growing incidence of chronic, non-healing wounds, RestorixHealth's centers utilize a quality- and data-driven approach to consistently achieve high treatment success rates, resulting in a dramatic increase in patient quality of life. The company currently manages comprehensive centers throughout the United States in partnership with hospitals and health care facilities. For more information, visit http://www.restorixhealth.com.