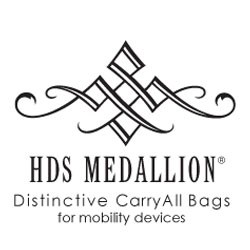 Hartford, CT (PRWEB) January 29, 2014
The faces of disability are rapidly changing. As the perception of people who use wheelchairs, walkers and power chairs continues to change due to the increased presence of mobility devices and the integration of people with disabilities into society, the idea of fashion becomes more prominent in their lives. Women with mobility devices are again finding ways to express their individual style sense with newly designed wheelchairs, attractive adaptive clothing and now functional and fashionable carryall bags that fit these devices.
When HDS MEDALLION® first started selling their distinctive wheelchair bags they focused on the senior market figuring women in independent and assisted living facilities would enjoy being able to show off these stylish handbags that worked on walkers and transport wheelchairs. As more disabled people expressed an interest in these stylish bags, it became apparent that women of all ages, even young girls, love having a handbag that matches their unique personality. Handbags are big money in the fashion industry and it is no secret that designer handbags are the "it" accessory for fashionable women. But they don't work on mobility devices. Now, with distinctive HDS MEDALLION® Designer Carryall Bags, disabled women can express their own taste and style. These bags often elicit an emotional pick-me-up, a moment of joy and continued pleasure.
HDS MEDALLION® responded to this new market by designing four collections. Featuring Metro Bags, a larger handbag that closes with a zipper, Demi-Premier Bags, smaller bags with two types of adjustable straps, Classic Bags, great for thin-armed power chairs, walkers and scooters, and the highly adaptable Premier Bags, the model that works best on manual wheelchairs and thick-armed power chairs, HDS MEDALLION® has over 20 handbag designs for young girls to senior women. Each handbag is expertly crafted in the U.S.A. using high quality fabrics and trim.
The ingenious Premier Bags work on multiple mobility devices by configuring the detachable, adjustable straps. This versatile model also has the ability to be arranged so it can also be used as a regular handbag or shoulder bag off of the mobility device. This video shows demonstrations of how this bag works on various devices.
With Valentine's Day less than a month away, now is a great time to start shopping for a gift for that special woman or girl. Why not look for a fashionable handbag that offers chic style, comfort and convenience? Give disabled women this fashionable handbag and you not only make them more functional, but more beautiful as well. These designer mobility bags available through HDS MEDALLION® make for great Valentine's Day gifts for mom, spouses, girlfriends and daughters.