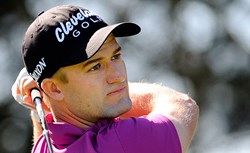 He's inspiring to watch.
Jacksonville, FL (PRWEB) January 28, 2014
Certified Steak and Seafood Company, online suppliers of quality food products nationwide, have announced their corporate sponsorship of professional golfer Russell Knox for the 2014 season.
This is the first pro golfer the Jacksonville-based company has elected to sponsor.
"He's inspiring to watch on the links and we're quite pleased that he will be wearing our company logo on his tournament apparel this season," says Certified Steak and Seafood Company president Mark Frisch.
An avid golfer himself, Frisch was personally involved in making the choice.
In a strong rookie season, Knox accomplished nine consecutive made cuts and a top ten finish. He shot fifty-nine at the 2013 Albertsons Boise Open, becoming just the fifth player in tour history to break sixty in a single round. In the 2013 Web.com Finals, Knox finished twentieth, securing his spot on the 2014 PGA Tour card.
"I know Russell to be a great guy personally, and one who will likely continue to capture the attention of knowledgeable sports viewers," notes Frisch.
Certified Steak and Seafood Company also partners with various charitable causes the firm's founding partners feel special connections with. "Helping our returning military personnel, joining in the battle against childhood cancer, and assisting the less fortunate among us to get back on their feet—are especially worthy causes we're honored to support," he adds.
About Certified Steak and Seafood Company
Certified Steak and Seafood Company is a family owned business carrying on the traditions of three generations of experience supplying both retail and food service customers premium quality food products: including Certified Angus Beef, lobster and seafood, and choice desserts. Their complete online catalog can be found at http://www.certifiedsteak.com.