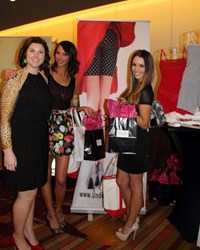 Men loved the Shortlette Slip Set. This shows that modest can be sexy or at the very least interesting. My Shortlettes were definitely a conversation starter.
Los Angeles, CA (PRWEB) February 03, 2014
CarrieRae Adorna, creator of the Undersummers Shortlette slip set, gifted industry talent and VIPs at 1027 Kiis FM's 2014 Pre Grammy Gifting Suite with her Undersummers by CarrieRae Lace Shortlette Slip Sets, camisoles & unique rash guard panty shorts to wear under dresses. The Vanderpump Girls, Katie Maloney & Kristen Doute, confirmed they always wear something to give a little extra coverage under dresses.
Surprising CarrieRae were the men with talent, who loved modest yet sexy Undersummers Shortlettes. They scooped up Shortlette Slip Sets for their wives & girlfriends. Sam Rubin, entertainment anchor for the KTLA Morning News, in Los Angeles was happy to give a pair to his wife.
Tyler Glenn, of Neon Trees, loved the idea of drummer Elaine Bradley wearing fun and funky Shortlettes on stage.
Robert Graham, Drew Kenney, and Graham Bunn, from The Bachelorette, also selected Shortlette Slip Sets for girlfriends & potential girlfriends.
"I was surprised how many men at this event loved looking at our Undersummers products and talking with us. Jen and I modestly showed peaks of our Shortlettes all day long and we attracted a lot of attention. This just shows that modest panties can be just as sexy and intriguing as the the typical lingerie on the market today." CarrieRae Adorna, creator of the Shortlette Slip Set.
Undersummers Shortlette slip sets are comfortable rash guard panty shorts & camisoles to wear in place of a slip. They are not shape wear. Undersummers Shortlettes and camisoles are made from a cling free, lightweight fabric to make women comfortable in under dresses without bulky layers. The Shortlette rash guard panty short is uniquely designed with a seamless inner thigh and stay put leg. Slip Sets are available in three styles, Lace, Classic, and 24/7. Sizes range from XS (0-2) to 6X (30). They are available in a wide variety of ever changing colors and prints.
CarrieRae LLC & Undersummers by CarrieRae was created by Carrie Adorna out of her own quest for comfortable long legged panties to wear under summer dresses. She currently is based in Kingwood, TX and proudly manufactures in the USA.
Undersummers by CarrieRae is available online and various stores. Contact CarrieRae LLC for wholesale opportunities at info(at)carrierae(dot)com.