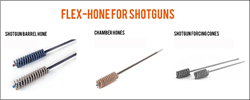 Brush Research Manufacturing (BRM), maker of industrial brushes and gun tools, announces the Flex-Hone® for Firearms for shotgun barrels, shotgun chambers, and shotgun forcing cones.
Los Angeles, CA (PRWEB) January 28, 2014
Brush Research Manufacturing (BRM), maker of flexible honing tools for firearms, is announcing shotgun tools that use the California company's award-winning Flex-Hone® technology. Built with a double-wire stem, the Flex-Hone® for Firearms mounts in a variable-speed electric drill, a handheld power tool that most gun owners already own. The Flex-Hone® for Shotguns also mounts in machining centers, and can be used by the firearms industry to remove machining marks or impart a final finish on smooth bores.
Abrasive Globules and Flexible Nylon Filaments
BRM's flexible honing tools feature distinctive abrasive globules that are permanently laminated to flexible nylon filaments. Self-centering, self-aligning to the bore, and self-compensating for wear, these gun hones use a low-temperature, low-pressure abrading process to improve surface finish. Brush Research supplies three types of Flex-Hone® for Shotguns tools in different abrasive types and grit sizes. Visit the BRM website to order shotgun barrel hones, chamber hones, and forcing cone hones.
Shotgun Barrel Hones
Shotgun barrel hones improve the appearance of smoothbores and make shotgun barrels easier to maintain. Choose BRM gun tools for 10, 12, 16, 20 and 28 gauge (GA) barrels or .410 bore. Shotgun barrel hones use either silicon carbide (SC) or aluminum oxide (AO) abrasive. Use a medium-grit hone to remove rough and tight spots from the bore, and then a fine-grit gun tool to impart a bright, mirror-like final finish. When using these shotgun barrel hones, insert the tool from the breech (if possible).
Shotgun Chamber Hones
As this video explains, shotgun chamber hones improve the surface finish of the chamber, the part of the firearm where shotgun shells fit for firing. BRM chamber honing tools have a 3" abrasive part and an overall length (OAL) of 12". Choose flexible chamber hones for 10, 12, 16, 20, and 28 GA shotguns or .410 bore. Use fine-grit AO abrasive for an ultimate finish.
Shotgun Forcing Cone Hones
Shotgun forcing cone hones are tapered so that this Flex-Hone® tool's abrasive globules gently smooth the surface of the funnel-shaped area between chamber and bore. Brush Research provides forcing cone hones for 12, 16, 20, and 28 gauge shotguns. Choose medium (180), fine (400), and ultra-fine (800) grit tools in SC abrasive. BRM shotgun forcing cone hones feature a 1-5/8" abrasive part and have an OAL of 10".
About Brush Research Manufacturing
Brush Research Manufacturing (BRM), makers of flexible honing tools and industrial brushes, is located in Los Angeles, California. For 55 years, BRM has been solving difficult finishing problems with brushing technology. BRM's Flex-Hone® tool is the standard against which all other surface finishing solutions are compared. Learn more by visiting our website today.
Media Contact:
Heather Jones
Director of Marketing
Brush Research Manufacturing Co. Inc.
4642 Floral Drive
Los Angeles, CA 90022
HJones(at)brushresearch(dot)com
For Immediate Release:
http://www.brushresearch.com/
Ph: (323) 261-2193