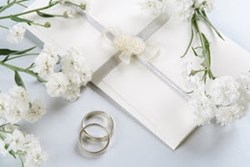 "Personalized labels can make wine, champagne, or even water bottles extra special, creating keepsakes that last long after the wedding is over."
Denver, CO (PRWEB) January 28, 2014
Lightning Labels, leader in printing custom labels and stickers, is helping consumers prepare for National Wedding Month by providing custom labels for weddings. For engaged couples getting ready for the big day, this month is an important one. While most won't be walking down the aisle this season, February is a key planning time for spring and summer weddings. The individuals getting married can take some of the stress out of planning by using customized items as favors. For instance, they can use wedding wine labels, or other custom stickers to personalize any number of different items.
"Many couples are looking for the touch that will make their wedding unique and special," said AnneMarie Campbell, Business Development Manager at Lightning Labels. "Personalized labels can make wine, champagne, or even water bottles extra special, creating keepsakes that last long after the wedding is over. Choosing gifts for attendees can be a hard task, so selecting something that friends and family can consume is a smart idea." Whether it's water to hydrate guests on the dance floor or wine they can drink once they return home, personalizing beverages is a unique option for gifts.
Personalized Labels for Weddings:
When resources are thin, decorators can use personalized labels for weddings to make cost-effective, but attractive ornaments. With the addition of a label, items like candles can also be designed specifically for weddings, making the look of the celebration more uniform. Gifts with personalized labels that commemorate the wedding can be fun for friends and family to take home with them as a way to remember the celebration. Custom wedding stickers are versatile and they can also be placed on thank you notes when the time comes.
Use Stickers for Labeling Wedding Favors:
Newlyweds can thank family and friends for joining them by labeling wedding favors. Designing personalized labels for weddings can make the event fun for everyone. It is likely there will be some younger children in attendance. Boxes of candy with customized labels are a good present for guests young and old. Instead of throwing rice, many wedding planners provide bubbles for guests to blow at the end of the ceremony. If you personalize these containers with a sticker or label, people will want to take them home as keepsakes. For couples who want to provide goodie bags filled with a number of small items, printed stickers for labeling wedding favors can make it easy to transform gift bags for the occasion.
Right now Lightning Labels is offering 20 percent off label orders placed using satin cloth or gold polyester through February 7, 2014, using promo code JANSALE at checkout. Satin cloth is a high quality woven satin acetate cloth material that comes from an actual textile mill to give labels a one of a kind texture and look. It is ideal for wine and/or spirit labels. Gold polyester offers a brilliant gold metallic color for a sophisticated look. It is ideal for most labeling applications including logos, product labels, stationary seals and more. Maximum discount is $1,000. Free ground shipping applies to orders placed online only and shipped within the U.S. and Canada. This offer cannot be combined with any other offers or promotion. Visit Lightning Labels.com for more information or updated promotions.
About Lightning Labels:
Lightning Labels uses state-of-the-art printing technology to provide affordable, full-color custom labels and custom stickers of all shapes and sizes, and now offers a full line of custom packaging products. From small orders for individuals, to the bulk needs of big businesses, Lightning Labels is equipped to handle and fulfill sticker, label and product packaging projects of all types. Best of all, like the name implies, Lightning Labels provides a quick turnaround to every customers' labeling and product packaging needs. Uses for Lightning Labels' custom product labels and custom stickers include food packaging and organic food labels, wine and beverage labels, bath and body labels, and nutraceutical products, such as vitamins, essentials oils, and herbal remedies, as well as event stickers, adhesive window stickers and more. Lightning Labels strongly supports the development of environmentally friendly printing materials and carries EarthFirst PLA, a new kind of green label material made from corn instead of petroleum. While operating as a high-tech printer, Lighting Labels prides itself on its personalized customer service. Lightning Labels provides one stop shopping for all of your label and product packaging needs. For more information and to place orders online, visit LightningLabels.com. For the latest in packaging news and labeling promotional offers, find Lightning Labels on Twitter (@LightningLabels), Facebook, Pinterest, Google+ and LinkedIn.