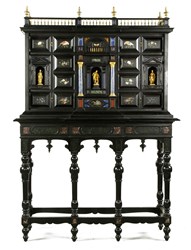 Beverly, MA (PRWEB) January 29, 2014
This February, Kaminski will feature an impressive collection of Continental antiques, art, and estate jewelry in their annual Winter Estate Auction. Kaminski will hold the approximately 400 lot auction on February 16th, beginning at 10:00am.
The top lot of the day is predicted to be an exceptional Italian ebonized cabinet from the late 18th or early 19th century, the cabinet features exquisite carving and finial decoration accented with exotic marbles, malachite, and lapis lazuli. The singular cabinet comes from the collection of Hubert Templeton Parson, President of the F. W. Woolworth Company. Mr. Parson previously had the cabinet installed in his summer cottage in Long Branch, New Jersey. The piece is expected to bring in between $20,000 and $30,000.
The auction will also include an equally beautiful late 18th or early 19th century Venetian parlor suite, consisting of a settee and two armchairs. The Fortuny style upholstery elegantly coordinates with the gilt wood frames carved with laurel leaf banding, beaded trim, and scrolling acanthus leaves. The ends of each arm are finished with finely carved lion's heads, a symbol very important to Venetian identity and status. The parlor set is estimated at $12,000 to $18,000.
A very fine Royal Vienna porcelain table is also positioned among the top lots in the auction. Painted with portrait medallions set in a gilt border around a larger medallion of a full figure in the center, the table is predicted to sell for between $15,000 and $20,000
Kaminski has also included in the auction a selection of period Continental art. Among the most highly anticipated is a Castiglione painting entitled "Othello Speaking to Desdemona About His Adventures." Born in Venice in 1829, Giuseppe Castiglione moved to Paris early in his life to pursue painting. He went on to win a number of international exhibition awards, and is a highly regarded painter of the period. His "Othello" painting at Kaminski is expected to bring between $10,000 and
$20,000.
Also among the collection of Continental paintings is a large oil on canvas attributed to the School of Nicolas Poussin. The 17th century Italian painting depicts the presentation of Moses to the Pharaoh's daughter, and is estimated at $10,000 to $20,000.
Estate jewelry and silver will also figure prominently in the sale. Among the selection are a number of natural yellow diamond pieces, as well as sapphire and platinum rings. The sale also features a few Russian icons as well as a collection of Austro-Hungarian silver pieces, including tea sets, trays, candlesticks, and cups from a single estate.
Sprinkled among these fine Continental offerings are a few notable American pieces as well. Highlights include "Vermont Village in Winter," by Emile Gruppe, priced at $8,000 to $12,000, and an early 1791 edition of Thomas Paine's "The Rights of Man," with an estimate of $1,000 to $2,000.
Preview hours at Kaminski's 117 Elliott Street location will take place Thursday, February 13th, through Saturday, February 15th, from 10:00am to 5:00pm each day. Preview will also be held the day of sale, February 16th, beginning at 8:00am. Kaminski will also be offering online live bidding through their new platform KaminskiLIVE. Visit kaminskiauctions.com to learn more and to view the online auction catalog.