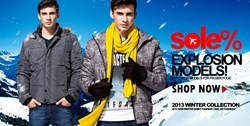 (PRWEB) February 04, 2014
Recently, Skmen.com, a reliable online shop of fashionable clothes, has announced its new range of men's suits for sale. In addition to that, the company is now providing deep discounts on these brand new items, up to 31% off.
The CEO of the company says, "We are excited to release our high quality men's suits for worldwide clients. At the moment, all of them are offered at discounted rates. We want to expand our international market, especially the American market. The new clothes are available in several different colors, you will find your ideal items in this collection."
"In 2014, we will spare no energy to create more top quality clothes at affordable prices. What's more, all our products are in stock and ready to ship. At our online shop, customers don't need to pay a lot of money to look handsome," he adds.
The fresh men's suit collection from Skmen.com is featured with trendy looks and delicate craftsmanship. It is worth mentioning that all of them are well designed by the company's own design team. The company is also offering similar on its other products like men's sweatshirts, hoodies, cardigan sweaters and so on. It wants to make worldwide gentlemen more handsome by offering top quality clothes.
About Skmen.com
Skmen.com, a China-based company founded in 2009, is one of the leading suppliers of men's and women's high quality clothes. It has more than 5000 customers from every part of the world; it hopes to help worldwide stylish ladies and gentlemen. For more detailed information about the company and its wonderful items, readers can visit http://www.skmen.com/product-men-s-suits-009009.aspx.