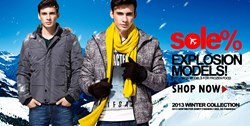 (PRWEB) February 05, 2014
Recently, Skmen.com, a famous clothing manufacturer and retailer, has unveiled its new collection of top quality men's sweatshirts and hoodies. What's more, all these fashionable items are now available with big discounts, up to 32% off.
Nowadays, sweatshirts and hoodies are being more and more popular among worldwide gentlemen. To meet the specific needs and requirements of different customers, the company has made a lot of marketing research before creating the new selection. It is especially made for spring 2014.
"We are happy to release our new range of men's sweatshirts and hoodies. Apart from men's sweatshirts and hoodies, we are offering great discounts on our high quality black long sleeve T-shirts, designer suits, cotton cardigan sweaters and so on. Also, we provide great online service. If you have any related questions during your shopping, just feel free to contact our online workers. They are always ready to answer questions or respond messages around the clock," the CEO of the company says.
Skmen.com specializes in the manufacturing and retail of top quality clothes for both men and women. It offers many kinds of men's clothes and women's special occasion dresses. The professional company is outstanding when it comes to soft and comfortable clothes.
About Skmen.com
Skmen.com, a China-based company founded in 2009, is one of the leading suppliers of men's and women's high quality clothes. It has more than 5000 customers from every part of the world; it hopes to help worldwide stylish ladies and gentlemen. For more detailed information about the company and its wonderful items, readers can visit http://www.skmen.com/product-hoodies-sweatshirts-009007.aspx.