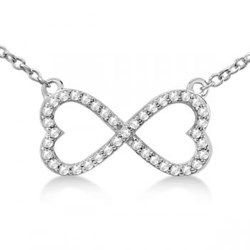 Jewelry is expected to account for close to 20% of all Valentine's day gifts this year.
New York, NY (PRWEB) January 29, 2014
With consumers spending a combined total of approximately $4 million on flowers and candy* for Valentine's day last year, it seems these gifts are still a time-tested standby for lovers across America. But, these must-have gifts appear to have become more like the preamble to the "real" gift. That gift for many is jewelry. In fact, last year's statistics show that over 6 million people were expecting or planning a marriage proposal, making engagement rings a top gift choice for a day that celebrates love. In addition, jewelry was expected to account for close to 20% of all Valentine's day gifts.
A jewelry expert at Allurez, a top New York based online jewelry retailer and designer said, "After analyzing the most popular gifts chosen in previous years, we have improved our collection of heart shaped jewelry, including diamond heart necklaces. In addition red gemstones like garnet and ruby are also popular Valentine's day gifts."
The Valentine's day mantra "it's the thought that counts" may sound wonderfully romantic, but there comes a point when couples expect more than just a card from their mates. And, although more women expect gifts than men on Valentine's day, they spend far less. In fact, women spent an average of $88.78, while men shelled out more than double that amount last year for the perfect gift.
The spokesperson for Allurez continued, "During Valentine's day we definitely see more men visiting our site for things other than engagement rings. Stackable rings with diamonds and gemstones have become a popular choice. Although price is a factor, our male customers are more interested in finding unique jewelry items that match their Valentine's personality, such as birthstone earrings and pendants. We're always updating our inventory to include the latest styles."
Following Christmas, Valentine's day is the next holiday where jewelry has historically been a large seller. Valentine's day sales numbers, due out in mid-February, are used as an indicator for the jewelry industry, revealing the 'pulse' of consumer spending on these luxury item sales. If early sales are any indication, it could be a very good year for the industry at large. Stay tuned.
Based in New York City and serving customers around the globe, Allurez Jewelers is a rising star in the field of luxury ecommerce. Allurez was recently ranked as the number one online-only jewelry retailer by TopTenReviews.com, and placed in the top three retailers overall. Their team of veteran jewelers specializes in all fine jewelry, including engagement rings, gemstone pendants, and other spectacular contemporary jewelry. Visit them online at Allurez.com.