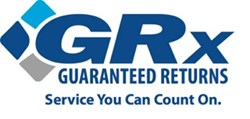 Their endorsement is evidence that we are hitting the mark.
Holbrook, New York (PRWEB) January 28, 2014
Guaranteed Returns® (GRx) proudly announces that it has once again been chosen as a preferred Pharmaceutical Returns vendor on the Premier Healthcare Alliance contract.
Guaranteed Returns® has been providing pharmaceutical return services to Premier Healthcare Alliance members for more than 10 years.
"I am honored that Premier Alliance chose Guaranteed Returns again as a preferred vendor. The GRx team works diligently to satisfy members' needs and their endorsement is evidence that we are hitting the mark," states Bob Randazzo, GRx National Account Manager for Premier Alliance.
About Guaranteed Returns®
For over 25 years, Guaranteed Returns® has provided pharmaceutical return services to hospital, government, independent retail, chain-store, LTC, Mail-Order and clinic pharmacies. Local GRx on-site service representatives are highly valued by customers for their professionalism, trustworthiness and for "going above and beyond."
Business review consultations, inventory management assistance and unbeatable customer service are just a few of the attributes that customers say sets GRx apart.
Contact Guaranteed Returns® at 1-800-473-2138, on LinkedIn or at http://www.guaranteedreturns.com.