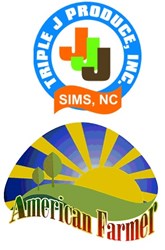 Sims, NC (PRWEB) January 29, 2014
Triple J Produce announced today that they will be featured in an upcoming episode of American Farmer airing second quarter 2014 on RFD-TV.
American Farmer will showcase Triple J Produce, a family owned business operated by Mike, Jay, and Joey Hocutt. The Hocutt family has been involved in farming for three generations. This episode will explore Triple J Produce's diversified line of crops, as well as the great pride the family takes in producing fresh, quality produce. Mainly, the show will educate on Triple J Produce's dedication to sweet potatoes; growing 1,000 acres of conventional and 100 acres of organic.
"Triple J Produce, Inc. looks forward in working to American Farmer and getting our hard work recognized," said Kristi Hocutt, of Triple J Produce, Inc.
"This friendly family farms over 4,000 acres of land, growing tobacco, wheat, and soy beans, along with their other produce," said Charlie Cowan, producer for American Farmer. "We're excited to explore Triple J Produce in this episode, and to educate the public on what it takes to be the American Farmer."
About Triple J Produce:
Triple J Produce, Inc. is a division of Hocutt Farms and was established in 1991 to produce quality Fruits and Vegetables. Triple J takes time and pride in producing quality for consumers.
For more information, visit: http://www.triplejproduce.com or call 252-289-8326.
About American Farmer:
American Farmer is a breakthrough program on a mission to showcase the latest advancements in agriculture and farming. From seed to harvest, livestock and more, our producers have traveled the country covering the people, places and issues impacting all areas of farm country.
American Farmer airs Tuesdays at 8:30am ET on RFD-TV as well as Tuesdays at 12:30pm and Saturdays at 1:30pm ET on FamilyNet.
For more information, visit: http://www.AmericanFarmerTV.com or call (866) 496-4065.
Media Contact:
Charlie Cowan, Senior Producer / American Farmer
(866) 496-4065 x 875
Charlie(at)AmericanFarmerTV(dot)com