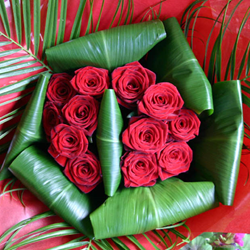 London (PRWEB UK) 28 January 2014
For those who truly want to say it with flowers this 14 February, UK florist Flowers24Hours recommends ten alternative options for Valentine's Day flowers meaning 'I love you'. Floriography, or the language of flowers, has existed in some form or another all over the world for thousands of years, but it was during Victorian times that it really took off in the UK. In the restrictive confines of Victorian society, flowers were often used to send coded messages to the recipient, enabling the sender to express hidden feelings which could not be spoken aloud.
And so, over and above their intrinsic natural beauty, flowers were instilled with even more romance and the giving of flowers became a way to communicate a variety of emotions to those close to ones heart. This tradition continues today, and thousands of people the world over now also send flowers for Valentine's Day, which in 18th Century England evolved from its religious origins in to an occasion for lovers where they sent romantic flowers, confectionery and hand-written greeting cards.
It was also in the early 18th Century that Lady Mary Montague, wife to the British Ambassador in Constantinople, first introduced the Turkish 'Secret Language of Flowers' to Europe. Later, a French woman writing under the pen name of Madame Charlotte de la Tour (Louise Cortambert) wrote and published what might be the very first dictionary of flower meanings, entitled 'Le Langage des Fleurs'. This offered seasonal floral and anecdotal advice to those wishing to send secret messages to each via hand-tied bouquets or 'nosegays' as they were called at the time.
So, for Valentine's Day gifts that communicate sentiments of love, London flower shop Flowers24Hours recommends senders draw inspiration from the secret language of flowers and send a Valentine's Day bouquet filled with one of the flowers below, or choose a flower gift or arrangement that mixes them up.
1. Acacia – secret love
2. Sunflower – adoration, loyalty and longevity
3. Lilac – first emotions of love
4. Hyacinth – beauty (white) and constancy (blue)
5. Orchid – love and refined beauty
6. Lily – devotion
7. Tulips – perfect love or declaration of love
8. Ivy – wedded love and fidelity
9. Ranunculus – you are radiant with charms
10. Roses – love, passion
London florist Flowers24Hours, which offers same day flower delivery in London and next day delivery to the UK, has a large variety of pre-designed Valentine's Day flowers and gifts to choose from, but if you want something custom made, some nice combinations featuring the flowers above include; bright cheery yellow sunflowers with red roses; a pretty jug or bouquet of hyacinths mixed with lilac; white tulips with white lilies in a bouquet or vase; a round posy of roses framed with ivy; pretty pink orchid heads set in a glass fishbowl vase (this could be perfect for concealing a ring in if you're planning to pop the question!); or finally baby pink ranunculus teamed with acacia.
Flowers24Hours Valentine's Day flower gifts that say 'I love you'

Flowers24Hours is an online florist offering Valentine's Day flowers delivery for the same day in London and the next day UK-wide. The company stocks a wide range of flower gifts suitable for Valentine's Day, including traditional Valentine's Day roses, as well as tulips, lilies, orchids and hyacinths. Plus, items such as teddy bears, wine and champagne gifts, hampers, gourmet gift baskets, chocolates and balloons can all be added in order to personalise your gift delivered online.