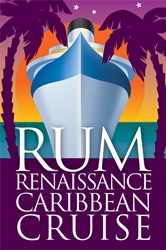 A leisurely rum cruise through the Eastern Caribbean visiting rum distilleries and discovering the finest rum from each island will be delightful.
Miami, FL (PRWEB) January 29, 2014
Hosts of the Miami Rum Renaissance Festival today announced a series of special Caribbean island voyages in November dedicated to the enjoyment and discovery of fine rums of the Eastern Caribbean.
The 2014 Rum Renaissance Caribbean Cruise aboard the Royal Caribbean Jewel Of The Seas takes place November 22-28, 2014 during the week of Thanksgiving.
Departing from Puerto Rico, the itinerary includes stops in the British Virgin Islands, St. Kitts, St. Maarten, Martinique and Barbados before returning to Puerto Rico.
Robin Burr and her husband Robert are organizing the tour, featuring visits to distilleries, rum tasting sessions, shopping for rare and exclusive rums and unique opportunities to appreciate Caribbean rum culture along the way.
Jewel of the Seas, a dazzling Radiance-class ship, combines sleek swiftness, panoramic vistas, and wide-open spaces for a delightful cruise getaway.
Members of the International Rum Expert Panel (RumXPs) will be on board offering insight and expert advice for rum enthusiast passengers.
Another similar itinerary in early November -- The Rum Journey Caribbean Cruise -- will be lead by RumXP member Paul Senft.
This unique eight day repositioning cruise aboard the Carnival Splendor departs San Juan, Puerto Rico on November 1, 2014 and visits five rum-rich islands. The Splendor will visit St. Croix, Martinique, Dominica, Grenada, and Grand Turk before arriving at its new home at the Port of Miami. This itinerary will allow travelers to visit at least four distilleries and welcome centers to learn about the history and methods used to produce rums on their respective islands. These islands will also provide the unique opportunity to experience and purchase rums that are not available in the United States.
Both rum cruises are booked by Deborah Fogarty, a Certified Travel Agent and Elite Cruise Counselor from Be Well Travel, LLC. Contact Deborah at 754-201-1138 to book your cabin or email: Deb(at)bewelltravelcruises(dot)com.