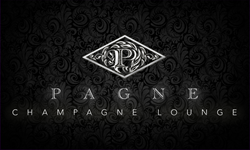 Orlando, FL (PRWEB) January 27, 2014
Downtown Orlando is set to call home to Central Florida's first true champagne lounge with the exciting addition of "PAGNE Champagne Lounge" celebrating its official grand opening late February-early March. Designed by CT Designs and Design Studio 15, Pagne (pronounced "pain") will deliver a classy, intimate atmosphere inspired by rich fabrics, old dark libraries and 1970's glam and speakeasy lounges. Pagne will feature a top-notch variety and selection of champagne, wine and spirits, palate-pleasing menu of light bites and appetizers and live piano entertainment nightly.
Playing off the name that is a spin-off of champagne and pain, patrons of Pagne will notice the unique theme incorporated into the venue's sleek and sexy design, from wall-to-wall and floor to ceiling. Pagne will also house a mixology bar serving up specially mixed beverages and customer service experienced only at Pagne, plus personal lockers for guests to store their spirits and feel right at home. Pagne is even partnering with upscale brands like Versace at Mall at Millenia to offer VIP luxury transportation to the lounge for out-of-town clients.
Pagne comes under the leadership of Angel Cortes and Nick Patel, who have been developing and delivering successful concepts in nightlife and hospitality to Central Florida for over 20 years, including Terrace 390, Ghost Bar & Lounge, Trend Studios Orlando, Saddle Up Bar, Mingo's Restaurant, Vain Nightclub, Chico's Tequila Bar, Knight's Pub and coming soon Crowne Plaza Lake Buena Vista, Doubletree at UCF and Renaissance Downtown. Cortes and Patel are also expanding their business internationally with the opening of numerous Bennigan's Restaurants in India.
"Pagne is a sexy and classy destination like nothing seen in Orlando where modern design meets that 1970's burlesque feel," says Cortes. "It will be a place where you can sit and enjoy the piano player, engage with friends in an intimate setting and enjoy the best selection of champagne and spirits this city has to offer. We are thrilled to bring this unique concept to Orlando and hope Pagne quickly becomes everyone's favorite new destination."
PAGNE Champagne Lounge bubbles up soon in Downtown Orlando at 100 South Eola Drive, adjacent to Mingo's in the Sanctuary building. Hours of operation are Thursday through Sunday from 7pm-2am. For more information and the latest news on Pagne's official grand opening, call 407.781.4398 and visit pagneorlando.com.
MEDIA CONTACT: Ilene Lieber, 321-277-7812, ilene(at)passionprconsulting(dot)com