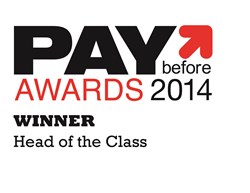 Our clients asked for an easier, safer and more flexible alternative to writing checks and we delivered.
Troy, MI (PRWEB) January 27, 2014
Billhighway's Prepaid MasterCard® program has been selected as a 2014 Paybefore Awards winner in the Head of the Class category. The program, launched in 2012, is a way for college fraternity and sorority students to better manage their chapter expenses. Billhighway proudly shares this honor with partners MasterCard, First Covenant Bank (FCB) and Galileo Processing, who helped make bill paying easier for thousands of students nationwide. Billhighway is one of three winners in its category, exhibiting the best use of prepaid functionality for delivering financial services to the youth/student/campus market.
"We're thrilled to be recognized on a national level for our highly customizable and personalized prepaid card program," said John Schelske, Chief Operating Officer at Billhighway. "Our clients asked for an easier, safer and more flexible alternative to writing checks and we delivered."
Not surprisingly, check usage is on the decline, according to a newly published survey by Boston Fed. The use of debit, credit and prepaid cards accounts for 50% of all spend in the country, far surpassing paper-based and electronic payments.
Billhighway is a contender to be named "Best in Category" at the 2014 Paybefore Awards ceremony, held during the All Payments Expo in Las Vegas on March 4th. "Sixth Judge Voting" is now open through February 3rd and serves as a chance for the public to vote on who takes home the top honors. These votes will be combined with the five judges' picks to determine Best-in-Category honorees. Vote once per day on the PayBefore website.
For eight years, Paybefore Awards has conferred the most prestigious recognition of excellence in the worldwide prepaid, mobile and emerging payments industry. The awards are presented annually by Paybefore, whose publications are the leading source of industry information for alternative payments executives.
About Paybefore
Paybefore is the leading information provider to prepaid, mobile and emerging payments industry professionals, offering the latest news, commentary and analysis. Paybefore's family of industry publications includes: Paybefore.com; Pay NewsTM; Pay GovTM; Pay WeekTM; Pay Op-EdTM; Pay MagazineTM, a biannual print publication featuring in-depth articles on the opportunities, challenges and trends in the global payments industry; and the only industry directory, Pay ConnectTM buyer's guide, available online and in print. Visit us at http://www.paybefore.com.
About Billhighway (http://www.billhighway.co)
Billhighway, headquartered in Troy, Michigan, develops cloud-based automation software that makes nonprofit financial management easier. Since 1999, we've helped our clients free up internal resources and focus more time on mission by increasing revenue, cash flow and the bottom line. Through a robust, rules-based engine that integrates payment processing, banking and accounting with existing systems, Billhighway provides a transparent, holistic view of your organization's finances so you can work smarter, not harder. Billhighway is recognized for award-winning customer service and industry-leading data security.