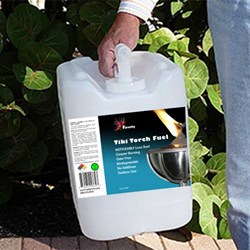 Firefly Tiki Torch Fuel burns up to 50% longer than competitive tiki fuels making it the least expensive fuel to use in tiki torches.
Sarasota, FL (PRWEB) January 28, 2014
Firefly Fuel introduced today a new standard for tiki torch fuel. Firefly Tiki Torch Fuel is the alternative to smelly, smokey fuels that soot up tiki torches.
Firefly Tiki Torch Fuel is odorless, producing noticeably less smoke/soot and is BTEX free. BTEX is found in petroleum derivatives and has harmful effects on the central nervous system.
-----------------------------------------------------------
Watch the Firefly Tiki Torch Burn Test VIDEO
-----------------------------------------------------------
Phil Tyson boasted "Burn tests show Firefly Tiki Torch Fuel burns 50% longer than competitive fuels providing a low-cost basis and dramatically increases the time between refills."
Firefly Tiki Torch Fuel remains liquid even in subzero temperatures. It is synthetic, non-petroleum based, fully sustainable and produced in the US by American workers.
Firefly Tiki Torch Fuel is available in 32-oz, 128-oz, 5-gallon, 55-gallon and 300-gallon containers for US and foreign destinations. Private labeling is available for contract clients.
Firefly Tiki Torch Oil is also available with Citronella or Eucalyptus essential oil additives as insect repellent.
Firefly Fuel, with this latest addition of a new tiki torch fuel, has a complete line of fuels suitable for use in any wick-powered tiki torch, oil candle, lantern or lamp. All Firefly Fuels are safely packaged in commercial-style containers to eliminate confusion with fruit juices. and are bottled in our Sarasota, FL facility using recyclable bottles and childproof caps.
About Firefly Fuel, Inc. (http://www.Fireflyfuel.com): Phil Tyson, a life-long entrepreneur, always looking for a "better" way, saw the tiki torch and lamp oil market as a niche where he could make a contribution and a difference. Firefly Fuel offers innovative, eco-friendly fuel products, oil candles, oil lamps and lanterns, private labeling options, small and large quantities, consistent product availability, same-day drop shipping for most orders and International shipping.