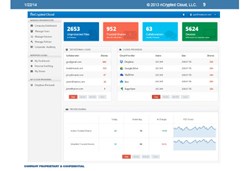 We collaborate securely just by using Dropbox with nCrypted Cloud.- Caroline Kuo, Brown University
Boston, MA (PRWEB) January 28, 2014
Secure cloud collaboration innovator nCrypted Cloud has launched nCrypted Cloud Enterprise Edition, the first secure cloud collaboration platform designed to natively integrate with leading cloud storage services such as Dropbox, Google Drive, SkyDrive and Box, while delivering the access controls, auditing and compliance enterprises require to protect information in cloud storage and multi-cloud environments. nCrypted Cloud Enterprise Edition provides a secure cloud collaboration and mobile computing experience for the millions of cloud storage end users that is as easy and familiar to use as Dropbox, yet large-scale deployment ready.
Available immediately, the new version offers a "cloud agnostic" layer for existing cloud storage services, initially for Dropbox, with versions for Google Drive currently in beta test and SkyDrive and Box available later this year. nCrypted Cloud natively blends into leading cloud storage provider's user interfaces, utilizing the same approaches to files and folders. This ability to work with multiple cloud services -- with no additional storage or re-learning -- permits users to work in their familiar cloud sharing environment and make their data, files and folders private, sharing them securely with individuals or among workgroups. With the introduction of nCrypted Cloud "multi-identities," users and enterprises can segregate personal and work files to control and revoke access to data, solving the problem of data comingling. This is critical as a growing number of users are now using several different cloud services and back-end repositories from their various devices.
Patented Key Management and Multi-Identities
nCrypted Cloud Enterprise Edition is built on open standards cryptography and encryption file formats essential for secure enterprises deployment. It leverages the 256-bit AES zip advanced encryption accepted by banks and government to protect cloud-based files and encrypt mobile devices and other endpoints. Additionally, nCrypted Cloud Enterprise Edition employs the company's patented key management system to generate multi-identities for proper segregation of corporate and personal data.
A host of new capabilities to assist IT, CISOs, CIOs and business leaders with their cloud storage security, privacy, and compliance postures include:

A data- centric security architecture that enables security controls to accompany data at rest and "in flight" via email, memory sticks, etc.
An Enterprise Administrative Console for a bird's-eye view of data across multiple clouds, policy administration, user activity and usage monitoring, as well as robust auditing and forensics, including the ability to "unlink" a user across all devices with a single click
Patented multi-identity segregation of personal and enterprise files with the ability to revoke access when collaboration ends or members leave a workgroup
Easy interface with IAM and SIEM infrastructures for integrated provisioning/de-provisioning and security monitoring
According to a recent Forrester Research report by Andras Cser and Stephanie Balaouras, organizations implementing security to, in, and from the cloud must embrace and enable rapid cloud adoption without compromising functionality or ease of use. Innovation from specialized vendors such as nCrypted Cloud have the potential to transform the security landscape.
In pilot with thousands of seats deployed at healthcare, insurance, finance, education and manufacturing customers since early 2013, nCrypted Cloud Enterprise Edition is evidence of growing customer comfort with the cloud as a way to collaborate with and serve customers.
Brown University uses nCrypted Cloud for secure cloud collaboration for an HIV research project between South Africa's University of Cape Town and Brown University's School of Public Health.
According to Caroline Kuo, assistant professor in the Dept. of Behavioral and Social Sciences at Brown University, "We had no way to do secure, encrypted communications with workers in South Africa -- we tried mailing files, but they were too big, while postal service remains unreliable and unencrypted sensitive human subjects data simply could not be adequately secured. Now, we collaborate securely just by using Dropbox with nCrypted Cloud. We plan to take nCrypted Cloud into the field on mobile devices. We especially like the ability to share encrypted files with any third party on a one-time basis."
Secure Cloud Collaboration for Regulated Industries
nCrypted Cloud Enterprise Edition is ideal for any industry that must share sensitive or regulated data securely in the cloud and requires only a small piece of software to integrate with cloud storage providers for a wide range of enterprise use cases.
Financial professionals can use nCrypted Cloud for secure collaborations between financial advisors, clients, brokers, dealers and regulators, employing nCrypted Cloud Dropbox for frequent secure collaborations or using nCrypted Cloud's Trusted Sharing for infrequent exchanges, such as between tax professionals and clients.
Trusted Sharing allows files to be shared through a one-time usage URL, permitting files to be shared for a set amount of time, then revoked. Files may also be watermarked, include specific messages, or require a security code for access. Only nCrypted Cloud allows data to be revoked on three levels: access to data in a file, by user, and by device, offering unprecedented management over employee and partner use in the shared cloud.
nCrypted Cloud is ideal to maintain HIPPA compliance with Dropbox and other cloud services, and has signed several HIPPA business associate agreements (BAAs), including with the nation's leading health and well-being company. Physicians can use nCrypted Cloud to secure electronic records in Dropbox, then synch to a mobile device for access from anywhere. Patients can send health insurance forms with Personal Identifiable Information (PII) and be assured of complete audit trails, business intelligence reports and security controls.
Finally, many lawyers and their clients use cloud storage to share Electronically Stored Information (ESI)and must maintain attorney-client privilege. nCrypted Cloud offers the ability to revoke access even if it has been previously shared -- ideal for use in tax season.
"With massive consumerization and a growing desire to collaborate securely across different cloud services, containment is no longer an option," said Nick Stamos, nCrypted Cloud founder and CEO. "Rather than worrying about how to block the millions of users of Dropbox, Google Drive and SkyDrive, we're helping companies support their users' business collaboration, as well as the governance requirements of the organization."
Pricing and Availability
nCrypted Cloud Enterprise Edition is available worldwide and is priced at $10 per user per month, with a 25-user minimum. Clients are available for devices running Windows and OSX, with iOS available from the App Store and Android via from Google Play. For sales or business inquiries, contact Tom Murphy at tom(at)ncryptedcloud(dot)com.
Additional resources:
Download the free demo of nCrypted Cloud Enterprise Edition at https://www.ncryptedcloud.com/enterprise/signup/.
nCrypted Cloud Enterprise Edition complements the nCrypted Cloud Consumer Edition, available for free at https://www.ncryptedcloud.com/download/.
About nCrypted Cloud
nCrypted Cloud is an easy to use, flexible secure collaboration application that seamlessly integrates with cloud storage service such as Dropbox, Google Drive, SkyDrive and Box. Founded in 2012, the company's patented approach to secure collaboration provides the most secure platform for end-to-end encryption, respecting the privacy of end users, while meeting the data governance and enterprise control requirements of organizations. For more information, visit us at http://www.ncryptedcloud.com and follow us on twitter @ncryptedcloud.