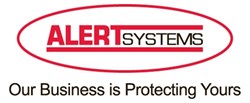 The recorded images from CCTV cameras provides important evidence to police,
(PRWEB UK) 27 January 2014
According to an article entitled 'Terrifying CCTV footage shows moment teenage girl has knife pulled on her at cashpoint' published in the Mirror online on Tuesday the 21st of January, 2014, a CCTV clearly captures the moment that a hooded offender pulls a knife on an 18 year old girl. Allegedly the robber asks the girl to withdraw £100. The footage then depicts the girl nervously entering her details and handing the attacker the money.
According to the Mirror, whilst the girl goes about attaining the money, the attacker puts the knife away and can be seen to raise two fingers and is allegedly telling the teenager to remain within the bank for two minutes whilst he made his escape. Police are appealing for witnesses or people that may know the man. He is described as a white, six foot tall male in his 20s.
A spokesperson form AlertSystems responded to the police appeal –
'Commercial security systems play a vital role in the protection of staff and customers in banks and other retail premises. Thefts such as this can be opportunistic or planned and in some cases offenders may make attempts to disguise themselves with a hood or scarf. Even if this is the case with High Definition CCTV systems it is still possible to positively identify an individual. If they have carried out prior surveillance of the premises, the business owners and the Police can review recorded CCTV footage to try an identify anyone behaving suspiciously.
The recorded images from CCTV cameras provides important evidence to police, in addition to assisting with the identification of an offender, it provides accurate information regarding the dates and time of the incident. This can be vital in securing a successful prosecution.'
AlertSystems manage and maintain over 5000 security installations throughout the UK and are specialists in providing business security solutions. Offering professional service and a complete range of security services such as monitored alarm systems, Automatic Number Plate Recognition and Avigilon CCTV security systems. AlertSystems offers effective and reliable solutions to security problems.