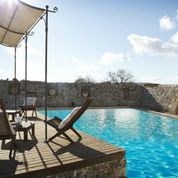 "My week at a Kaliyoga retreat left me spiritually, physically and emotionally rested with enough inner peace to last me through the winter." - Telegraph Travel
(PRWEB UK) 29 January 2014
For 12 years Kaliyoga has provided world-class retreat holidays to a growing number of fans and now guests can experience Kaliyoga's signature programme of yoga-led relaxation in the most unspoiled and bewitching area of Puglia in Southern Italy - one of National Geographic Traveller magazine's Top 20 best Destinations in the World.
The new luxury retreat centre is a grand 17th century manor house surrounded by a cluster of beautiful round stone buildings overlooking the heavenly Itria valley. The accommodation is simple yet luxurious comfort in Italian style. Guests can choose one of the round trullo apartments with conical roofs or a lovely twin/double rooms in the manor house.
The retreat is a good value holiday, with three meals a day and a daily maid service. There are twice daily yoga classes where guests can relax into yoga poses with guided meditation. Beginners can experience the essence of yoga with ease in the restorative evening sessions, while experienced yogis can move more deeply into their practice with dynamic flow yoga each morning.
The food is delicious Puglian cuisine that is tasty and super light. There is no diet plan – Kaliyoga guests can forget "how many calories in this or that," ignore adverts that say lose weight fast, leave their Weight Watchers plan behind as they embark on a yoga holiday that brings all the relaxation, all the fun, all the social life but without piling on weight.
In between yoga sessions guests can chat to new friends by the pool, or try one of the activities such as cycling and walking, or visit the local Baroque towns of Locorotondo & Martina Franca, or sample the beautiful beaches of the Adriatic and Ionian Coasts - only 20 minutes away. Stay-at-homers can treat themselves to the sumptuous range of holistic therapies, snooze in a hammock, melt in the jacuzzi, or float in the lovely swimming pool, soaking up the sunshine and the beautiful views.
About Kaliyoga
Kaliyoga is one of a kind and, despite its international growth and increasingly recognised yoga brand, it retains the atmosphere of a small family-owned business. Determined to keep its essence warm and intimate in nature, the Kaliyoga team are independent from travel agents and holiday retail companies and truly dedicated to the needs and desires of their individual guests.
NOTE TO EDITORS
1.Booking online available now – weekly from Easter to October 2014 (closed in August)
2.Minimum booking 7 nights (late arrival and early departure is okay)
3.Price per person from £975 to £1,600
4.Maximum group size 16
5.There are twice daily Dynamic Yoga and Meditation Classes to suit all levels
6.Three meals a day - delicious Italian vegetarian & pescatarian cuisine
7.Optional world-class holistic therapies such as Thai yoga massage, Reflexology, Ayurvedic Massage, Indian Head Massage, Hot Stone Massage, Lymphatic Drainage & Equine Therapy.
8.Fly Ryanair/ Easyjet/ Air Italia/ British Airways to Bari Airport, or Brindisi Airport
9.Low resolution images here - http://www.kaliyoga.com/italy/gallery/
10.High resolution images here - https://www.dropbox.com/sh/lm7dpi6v9ldj1ra/SliMs2swiY
11.Bookings - http://kaliyoga.com/italy/booking/ or call 0208 1444 297
12.Kaliyoga's website can be found at: http://www.kaliyoga.com.
For more information, please contact Jonathon Miles: 0208 1444 297.
For media enquiries, please contact: Sue Thomason at Tranquility PR.
sue(at)tranquilitypr(dot)com 07772164258